Countint itself among a new breed of office space providers, Stockholm-based Cecil Coworking offers service packages – as an alternative to renting office space – to professionals and businesses.
Based in the Bibliotekstan district, the company is centred on efficiency and wellbeing, in an 'elegant yet inviting' setting – with Genelec Smart IP technology providing the audio delivery. The audio, along with the A/V systems that serve the 3,200sq-m space, was designed, provided and installed by corporate A/V systems integration specialist Scan AV Kommunikation.
'The aim was to provide a complete background music solution that offered high-quality sound over the entire two floors of the location,' says Scan AV Systems Design Engineer, Magnus Westin. 'The solution had to be widely scalable and fitting for the premium environment – that meant impeccable sound quality and pleasing aesthetics with minimum visual impact.
'However, the solution still needed to remain cost-effective, easily serviceable, easy to install and sustainable. That's a lot of boxes to tick, but Genelec's Smart IP loudspeaker solution was the answer.'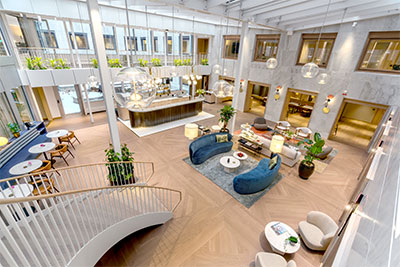 Smart IP is a recent Genelec development, wrapping audio, power and control into a single network cable. 'Delivering the solution over a planned network proved to be the most cost-effective solution, enabling us to plan installation and loudspeaker placement down to the last detail,' explains Westin. 'Smart IP technology is an absolute godsend for projects like this – having audio, power and control over a single cable eliminates the need for additional power outlets near the speakers and avoids having to install proprietary cables that might interfere with other installations.
'This keeps everyone's blood pressure at manageable levels and enables us to deliver an accurately costed project with a very competitive cost per unit.'
Finding suitable locations for the loudspeakers that met the requirements of the architects without impinging on the overall audio experience proved a challenge, and Scan AV had to be creative with loudspeaker placement. But careful positioning and mounting, and almost invisible cabling has produced a result that matches and even contributes to the high-quality look and feel of the project's architecture, floor-planning and design elements.
'We've placed the speakers on shelves and tables and in ceiling recesses, as well as more traditional wall placements,' Westin says. 'We used a variety of mounting options from Genelec including some colour-matched table stands that were used on top of window sills, plus custom ceiling mounts.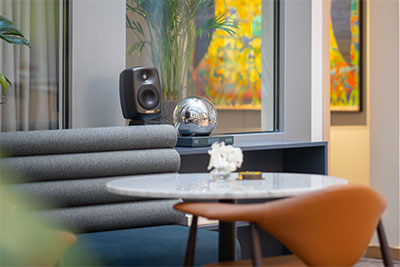 'The aim was to create an immersive sound experience in all zones while maintaining harmonious aesthetics. The ability to have the same product throughout, with the only variations being placement and mounting, was a complete win for this project. We used Genelec Smart IP Manager software to calibrate each loudspeaker individually for optimum sound quality throughout.'
Scan AV installed 36 Smart IP loudspeakers as part of a distributed system split into 12 zones spread over two floors, and connected with fibre-stacked network switches acting as a single switch. There are 34 4420 loudspeakers spread across the office area and all open spaces, and two more powerful 4430s in the bar area. All control is through a custom-coded AMX system with touchpanels for control of zones, level, content, presets and time/calendar-based events.
The system supports total control from a remote location, keeping costly and intrusive on-site visits to a minimum. Five stereo sources can be distributed to all 36 individual loudspeakers or assigned to the 12 pre-defined zones.
'Genelec's Smart IP speakers truly display their awesome strength when used in these types of projects with high demands on sound quality, even when perhaps changing a project's environment or design completely for a particular area,' Westin concludes. 'It's immensely flexible and allows us to adapt to changing requirements as we go along. My only wish is that in the near future we will see even more Smart IP loudspeaker models, so we can include them in even more applications.'
More: www.genelec.com