Describing him as 'the archetypal salesman, charmingly personable, slightly risqué… the loveable rogue, always with a roll-up hanging from his lips', colleagues from ARX and C Audio have issued an obituary to mark the life of Phil Hildrow, who passed 1 April 2021.
During the 1970s, Phil worked for PACE-MM in Royston – the company that pioneered the 'cheap but serviceable' mixing consoles that launched the careers of so many bands on the pub circuits of the UK.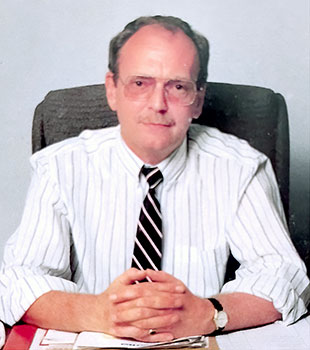 Britan's dominance in this market led to growing demand for 'Made in GB' products across mainland Europe, and so Phil – sensing the untapped potential for sales – set off with a demo MM mixer in the boot of his trusty blue Vauxhall Cavalier to make calls on the music shops on the other side of the English Channel and take orders. Preferably large ones, prepaid.
This launched his new love of travel, that along with his love of football and family, stayed with him for life.
Early in the 1980s, music industry innovators around Cambridge turned their attention to developing computers – with sometimes fatal business consequences. First MM-PACE, then HH. Phil moved from MM to Harrison before settling with C Audio, an offshoot of MM-PACE.
At the end of the 1980s, he and fellow international salesman Hans Freytag engineered the buyout of C Audio that, over the next half decade, they quickly built into the largest European manufacturer of power amplifiers. At the same time they had a side project – manufacturer repping firm TCI, that was breaking brands into the European market, including EAW, Samson, Metro and ARX. Managing and growing their established Distributor networks helped to grow their international presence and allowed plenty of opportunity for foreign travel.
By the mid 1990s, Phil and Hans Freytag could see the growing importance of mass production techniques and the introduction of DSP as the power amplifier industry slid into the 'dollar a Watt' era.
The writing was on the wall for the traditional way C Audio manufactured its ultra-reliable built-like-a-brick product ranges, however the leading market position it had achieved ensured that C Audio proved an exciting target for two major industry conglomerates featuring many industry name brands but who lacked amplifier lines.
After corporate negotiations and machinations, C Audio was sold to Harman in 1996 and Phil stayed on (despite yearning for a quieter life) overseeing the company's move to a large new factory in St Albans, where the brand was fully integrated into the Harman Pro Audio portfolio. Corporate life wasn't made for Phil, so he made his exit.
After his time at Harman, Phil maintained an interest in St Neots-based company Lightmasters, an audio lighting and video installer into the fitness club and discotheque markets, enjoying his retirement from 'front-line' sales by concentrating on his family and his growing passion for Indian cuisine.
A true character, Phil made a lasting impression on all. His generosity of spirit (mainly Scotch), good humour and a passion to take care of those around him meant that many in the industry considered him not only as a colleague, but as a lifelong friend.
Phil will be forever missed by the large number of people whose lives he touched, and especially by his close friends and family.