With his writing space at Hoxa HQ in London based around an in-the-box workflow, songwriter and producer Dan McDougall can easily tap into the Hoxa HQ main studio whenever he needs access to its vintage Neve 8058 console with 31102 channel mic pre-amp/EQ – offering circuitry and sound that is almost identical to today's 1073 variants. His recent investment in a Neve 1073OPX Octal Microphone/Line/Instrument Preamplifier brings this heritage into the modern studio environment.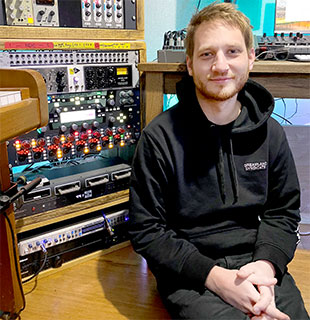 'The Hoxa HQ Neve console sounds amazing,' he says. 'The 1073OPX is the first Neve unit I've purchased, but I've always been a huge fan of the Neve sound, so I am very pleased to now own my own mic pre.'
As a multi-instrumentalist, McDougall has worked with numerous artists including Ellie Goulding, Grace, Razorlight, Jade Bird and Tom Odell – whose platinum-selling Long Way Down album also features McDougall on drums. In addition, he is an instrumentalist for Liam Gallagher and has featured on most of his tracks, including those on a forthcoming album. McDougall's production and songwriting credits are equally extensive, and include Will Young, Aurora, The Amazons' and, recently, Bruno Major, Baby Queen and Callum Beattie.
Although the sound of Neve preamps played a large part in McDougall's decision to invest in a 1073OPX, there were also practical considerations at play – not least the compact nature of this innovative unit. 'The fact that it has eight 1073 units in only a 2U-high chassis really suited my needs because it doesn't take up too much room in my rack,' he says.
'Tracking wise, I love to go through great mic pres and this unit sounds so good that it's really noticeable. Having eight amazing pres for drums, vocals and whatever else I am tracking is just great. Post tracking I mainly end up working in-the-box, but I do send out anything for a few outboard effects that I can't quite achieve in the box.'
Designed to deliver the same tonal quality, warmth, low-mid punch and subtle harmonic distortion as Neve's 1073 mic preamp, the 1073OPX is suited to a hybrid workflow because of its connectivity. Its modern remote-control software ensures two-way control with Total Recall of all settings, while the analogue and digital monitor signal path allows it to be used as a complete standalone I/O interface or as a latency-free live room remote preamp.
Having the ability to easily jump from one project to another – and from one instrument to another – was also influential in why McDougall opted for a 1073OPX. 'I have six tracks of drums and a stereo piano permanently connected to the OPX via the DB25 connector on the back,' he explains. 'This is one of the things I love most about it – having the ability to just press a button and switch instantly to the connections on the front of the unit for tracking vocals or Synths via the line inputs.
'It essentially saves me so much hassle rerouting inputs. This is crucial for a songwriter; when I'm working with an artist, I like to get something going quickly, so having the ability to jump between instruments at speed is great. Also, when switching between the inputs on the back to the lines or DI inputs on the front, the gain levels are saved which is another amazing feature – as is the ability to digitally control gain pots in 1dB increments. This makes it so much easier to stereo match my piano, for example, and get just the right gain for the source.'
No matter how adept you are with technology, there is always the worry that setting up something new and getting it to work with your existing equipment is going to be a nightmare. Not so with the 1073OPX, McDougall reports. 'I just rigged the line out DB25 into my patch bay and I was ready to go.'
He adds that staff at AMS Neve were also incredibly helpful and visually answered a few initial questions. 'I can't fault Neve's service in the slightest.'
More: www.ams-neve.com