KMR has taken on the role of main European dealer for Helios Electronics, responsible for sales throughout Europe including Italy, Spain, Germany and the Netherlands.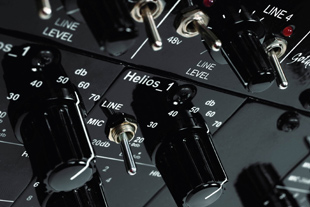 Best known for mixing desks – including those installed in the Rolling Stones mobile, Beatles' Apple Studios and 10cc's Strawberry Studios – the Helios brand has been revived and is currently offering the Helios 1r Stereo Type 69 Mic Pre/Eq and the Helios Type 69-500 (a 500 Series version of the mic pre/EQ, used by Led Zeppelin, The Rolling Stones and The Who).
Often overlooked among 'classic' analogue consoles, the Helios desk was designed by the late Dick Swettenham and was used to record many hit records of the 1960s and 1970s. After Helios Electronics closed down in 1979, Tony Arnold of Courthouse Facilities – who had been servicing the consoles – bought the company and started reissuing what is considered the best-sounding of the four different Helios module iterations: the Type 69 microphone preamp/EQ. Repeatedly tested against the surviving vintage modules, these faithful recreations have passed every test thrown their way.
The Type 69 Mic Pre/Eq is built in an aluminum case and has a glossy black front panel with white silk-screened labeling. The unit is well constructed and neatly wired using all discrete components (no chips). It runs on a 32V rail supplied from an internal OEM switching power supply. The mic preamp uses a Sowter Type 8666X input transformer based on the highly desirable Lustraphone (Olympic Sound Studios) transformer model. Input impedance is 1.2kΩ. A separate switchable secondary winding provides for -20dB of mic attenuation.
The output section is unbalanced and uses an emitter follower circuit and a Philips/BEC electrolytic coupling capacitor, much like what's in the original Helios design. Swettenham found that the engineers at Olympic Studios preferred the sound of this circuit compared to the best output transformers.
The Helios Type 69-500 holds true to the original Dick Swettenham design, but with a number of modern updates such as dB steps on the mic preamp gain switch as opposed to the original 10dB steps, additional 16kHz EQ frequency selection for today's high-bandwidth digital recordings, and a balanced output for easy interfacing with any digital converter.
More: www.kmraudio.com
More: www.helios-electronics.com