As one of Dubai's premium hotels, the Grand Plaza Mövenpick Media City has installed a bespoke Yamaha audio system to reflect it status and range of amenities.
Located adjacent to Dubai's Media and Internet City hub, the hotel features 235 rooms and suites, five restaurants/bars, a 1,150m2 convention centre (including 800m2 Grand Ballroom), meeting rooms, rooftop lounge, gym, spa and swimming pool.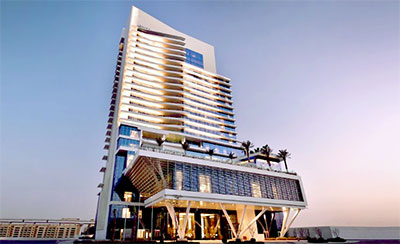 Systems integrator Telematics was asked to install audio systems in the Grand Ballroom, spa/gym and five meeting rooms. Supplied by Thomsun Trading, one of Dubai's leading distributors of musical instruments, A/V and broadcast equipment, the sound of the VXC series ceiling speakers was one of the reasons for choosing a Yamaha solution.
The Grand Ballroom is mainly used for corporate events and weddings. For maximum flexibility, it can be divided into two or three smaller spaces, so an adaptable audio system was needed. Here 22 VXC8 ceiling speakers are installed – in two groups of eight and one of six for the three zones – powered by three XMV4280 amplifiers. An MRX7-D signal processor was installed to manage the system, with an MY8-ADDA96 interface card, plus EXI8 and EXO8 input/output expanders. A DCP4V4S surface-mount panel was installed to give staff ready control of the system.
In the spa, ten VXC8 and five VXC6 ceiling speakers are installed in the treatment rooms, changing rooms, reception and corridors, with DCP4V4S and DCP1V4S control panels. More robust audio levels were needed in the gym, so here four VXS8 surface-mount loudspeakers and two DXS15MkII 15-inch powered subwoofers are employed, with a further DCP4V4S control panel. Three additional XMV4280 amplifiers are used to drive the VXC and VXS loudseries speakers, with system management by an MTX3 matrix processor. A third-party music player and radio tuner supplies music to the MTX3.
In each of the five meeting rooms, an MA2030 mixer power amplifier and BD-S681 networkable Blu-Ray player provide the necessary audio feeds, with two VXC4 ceiling speakers in Rooms 1-3 and six VXC6 ceiling speakers in the larger Room 4 and Room5.
'This was our first experience with Yamaha PA products,' says Telematics Senior Sales Engineer, Bebin Mathew. 'We programmed the MRX7-D and MTX3 to provide a very flexible system, which was delivered within the client's timeline. The MRX7-D is a very versatile unit with high multi-purpose capability, which is exactly what the hotel needed. We also really like the DCP series control panels – they are simple to install and very easy to use for the hotel staff.'
'We are very satisfied with the audio system,' Alfio Bernardini, General Manager at Grand Plaza Movenpick Media City, confirms. 'The amplifiers and speakers are of great quality and the way it has been designed helps our daily operations by being very straightforward for our staff to use.'
The project has been such a success that Telematics is already looking to design more audio installations using Yamaha. 'With the support of Thomsun Trading and Yamaha Gulf, the response from our client has been completely positive,' says Bebin. 'We would definitely like to continue this relationship with Yamaha in the long run.'
More: www.yamahaproaudio.com