Beside the St Lawrence River in Montreal, Canada, the Parc Optimiste offers expansive grounds for recreation and outdoor sports. It also provides the local community in Sainte-Catherine with a wide range of events – and needed a public address and entertainment system to further support its work.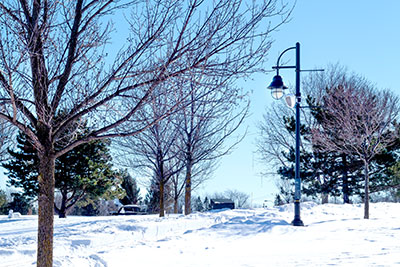 City Head of Events, Nicolas G Bouchard, wanted to introduce a permanent solution to the park's needs partly inspired by the positive response to its Halloween 2020 theme, when lighting and decorations were placed along the walkways,but lacked the ability to provide to music to accompany it.
Montreal-based XYZ Technologies won the contract to provide a system based around Powersoft's multimedia public address and entertainment system, Deva.
'We needed a reliable product that had the durability to withstand the environment, with the park being next to the river,' Bouchard says. 'Powersoft's Deva – its Deva Audio model specifically – met all requirements – a robust product with a user-friendly software and the capacity to be both an entertainment system and a public safety one. It's perfect for any event on the grounds, in appearance, flexibility and in its simple control.'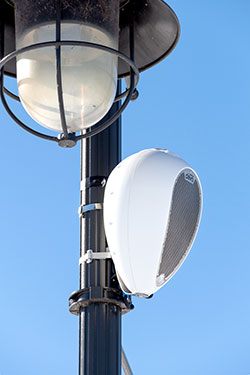 The IP65-rated weatherproof Deva system uses enclosures made of a flame-resistant and salt-water resilient material, compliant with the UL 94 standard, and able to protect internal circuitry from working temperatures of between -20°C and +70°C. The wireless Deva is fitted with an ultra-efficient class-D amplifier and 8-inch loudspeaker, and is offered as three models – each with their own capabilities and benefits. The Deva Audio features a GPS system and an infrared presence detector. Deva's capability for additional features also made it the perfect candidate for the installation, as if the park ever wanted to add additional features, they would be in a position to do so.
XYZ Technologies used seven Deva Audio units spaced throughout the park to maximise coverage for the grounds. While Deva can be solar powered, XYZ Technologies used power from streetlights around the park for power. 'Digging up the ground around the park to run wires in conduit was just not possible,' Bouchard says. 'It would have been too disruptive. Deva Audio offered an answer that allowed for minimally invasive installation.'
'It only took us a day to set up all the units,' says Anaïs Leyral of XYZ Technologies. 'It was then just a question of setting up the software, which was done in a matter of hours.'
Deva has already proved itself during the park's recent winter Lueurs Boréale theme. The units were used to play classical music from Quebec musicians, while illuminated displays presented poems from four Quebec poets, accompanying a northern light inspired visual spectacle along the winter trail around the park grounds. The Lueurs Boréale experience also doubled as a fundraiser, with visitors who enjoyed the experience invited to donate to a local charity.
'We've had very positive feedback from the customer,' Leyral reports. 'The software has been praised for being extremely simple to use. Overall, we're really pleased with the installation. The Deva units were easy to configure and install and offer exactly what was required.'
Bouchard and his team are now working on a summer experience for the Parc Optimiste that will make use of the Deva system's flexibility. 'We're planning on creating three independent zones in which different content will be heard for the audience,' he says. 'This wouldn't have been possible without the Deva system.'
More: www.powersoft.com