A studio rebuild five years ago at the Mount Wachusett Community College in Massachusetts (MWCC) has prompted a change in applications for its Media Arts & Technology degree programme. Five years on, the college is still enjoying the fruits of its facility upgrade, which included a rebuild of five audio control rooms, with an Audient ASP8024 console going into Studio 5.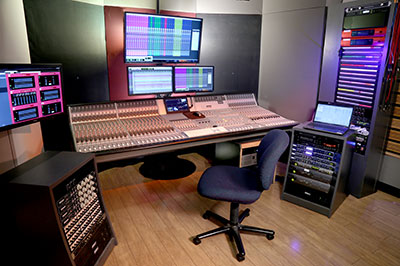 'We're especially happy with the Audient console we put in Studio 5,' said MWCC Department Chair John Little at the time, and he stands by his statement. 'I chose it before I knew how many colleges around the world use them. I insisted on an actual console with real audio paths over a controller. This one has the feel of a large format desk, yet is elementary enough for students to embrace quickly. It has gorgeous preamps, it's quiet as a mouse and the dual layer module provides DAW controller options and automation, so with this one board, we can teach a lot.'
Today – despite the ongoing impact of global pandemic – Little's plans for the MWCC include afurther audio control room – which is already under construction. This will include recording, 5.1 mixing and connection to the video control room for live TV audio. A new audio course specific to live sound is also being developed, helping to nurture collaborations with neighbouring universities.
'We are a small community college whose student body mostly commutes to campus from within 20 miles,' explains Little . 'Website photos from the renovations are now drawing audio students from hundreds of miles away, some of whom rent apartments so they can train here.'
Coming from a background as a recording engineer, Little had ample experience working with film makers, who would often berate the lack of training in audio for visual media disciplines. When he started teaching at MWCC, he wrote the audio curriculum to address this deficiency. Upgrading the studios was the next logical step. 'Our curriculum constantly evolves for efficiency and relevance to a changing industry. Part of choosing the Audient console was in anticipation of how well it would last as a valid training tool,' he added, confirming that it has lived up to these expectations.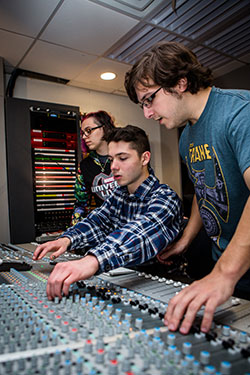 MWCC's Studio 5 features an 80 input Audient ASP8024 with Dual Layer Control. Recording is handled with a Pro Tools HDX system running 32 analog channels of Avid HD/IO and 32 channels of Dante via Focusrite Rednet. The room is also networked to the Avid Nexis E4 storage server. Additional software includes Waves, Izotope, and Lexicon plug-ins. This Pro Tools system is equipped with Avid Video Satellite, patched to an Avid Media Composer Video edit system, which provides synchronising to full HD quality video for Foley work and mixing to motion picture.
Outboard includes compressors from Empirical Labs and FMR Audio, Drawmer DeEssers, Lexicon effects, and Tascam CD recorders. The room has five video monitors, switchable through electronic routing. On the large video monitor, while recording multi-camera events, the audio students will view a duplicate of the video control room's multi-display of all cameras, just as the video directors see. Audio monitoring in this room is also provided by Mackie HR 824 monitors, tuned through a dbx 1231 referenced by Audio Control Industrial SA-3050A spectrum analysis.
The Audient console is also central to recording concert videos out of the theatre, which involves students from eight different classes throughout the college.
'Annually, this is the biggest task for our ASP8024 to as much as 48 inputs of Pro Tools' says Little. 'Audio students record this along with video students who operate cameras in and around the concert
'In addition to the live switched video recording, all audio sources and camera images are recorded discreetly, and the final edit/mix is created in postproduction. When Covid restrictions end, we will invite military bands and national acts to record concert videos here – either by us or with our involvement.'