Spitfire Audio has released Haimbach - Landfill Totems, a sample library from the sound palette of electronic music composer and performer Hainbach's Landfill Totems concept album.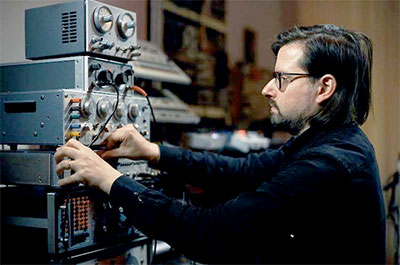 The library provides, bespoke sounds curated by Hainbach from long-forgotten, now-obsolete test equipment collected from nuclear research labs, grandfathers' sheds and scrap heaps, and repurposed as musical instruments. The plug-in offers morphing and evolving sounds suited to techno and ambient music production, as well as film scoring.
Berlin-based Hainbach (aka Stefan Goetsch) creates shifting audio landscapes on the experimental edge of electronica. His music is an abstract, fashioned from esoteric synthesisers, test equipment, magnetic tape, and idiophones – instruments that vibrate when struck, shaken or scraped. Hainbach's immersive live performances are also admired, recently through his YouTube Channel, where he attracts an expanding following to share his journeys and expertise.
The Landfill Totems project began as a performance installation at Berlin's PNDT art gallery, expanding into a full album and accompanying sample library recorded at Patch Point in Kreuzberg-Berlin.
'What I love about Patch Point is that it is a place for those interested in sound and music itself,' he says. 'You don't go there to buy a box with 999 presets that will make you sound like the industry standard; you go there to find something that speaks to you. You pick up something that will start an intimate process of music creation, and it will sound like you, and only you.'
Stacked in towers resembling totem poles, each piece of equipment was chosen by Hainbach for its distinctive tone generation and modulation capabilities before being wired up much like a modular synthesiser. 'Each tower of equipment took the form of a lifelike statue, and suddenly all these faces started appearing in the machines. They made massive sounds and unfamiliar noises and I thought, I want these to be heard – to sing again.'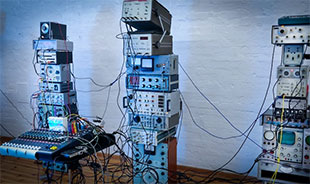 Upcycled and redesigned, these totems act as a commentary on the environmental cost of progress – what was once the pinnacle of technology becomes unviable and destined for the scrapheap – if not for the intervention of Hainbach.
Chosen for the performancewere medical, telecommunication and scientific research equipment, vintage sound-testing devices, a Nuclear Instrumentation Modular, an outmoded medical signal generator, a mixer previously used by the Stasi and a Brüel & Kjaer 1613 band-pass filter (creating the hi-hat, bass drum, and watery sounds).
Spitfire Audio's sample library sees those same machines presented as instruments, producing unpredictable sounds from eerie morse code bleeps and comms signals to bass pulses, drones, pads and grainy textural rhythms.
The plug-in provides 40 presets split into four sections. Kling comprises presets containing elements from all other sections, with a range of textures available to explore using the mod wheel. Klang offers tonal sounds, from evolving pads to pulsating drones. Knarz adds textural and effects-style sounds, from watery to alien-like. Krach brings percussion and drum hits, as well as time-machine loops and patterns. Effects and controls provide control of the presets, including reverb, delay, attack, release, distortion and stretch, while the dynamics fader controls the processed signal to offer a spectrum of sounds within each preset – velocity-sensitive themselves for varying tones. 'Just press one note, and you get a whole spectrum of emotion,' says Hainbach.
The Landfill Totems album is simultaneously released on SA Recordings, the London-based label owned by the British music technology company, which specialises in producing limited-edition releases and bespoke, artist-led sample libraries in collaboration with Spitfire Audio.
Haimbach - Landfill Totems is available as an AAX, AU, VST2 and VST3 plug-in supporting Native Instruments' NKS (Native Kontrol Standard) for Mac (OS X 10.10 – macOS 11 minimum) and Windows (7, 8, and 10 – latest Service Pack) that loads directly into any compatible DAW at an RRP of £29 (inc VAT)/US$29/€29 (inc.VAT).