Renkus-Heinz has appointed Italian A/V distributor Prase Media Technologies to represent its loudspeaker solutions in Italy to designers, integrators, and end-users.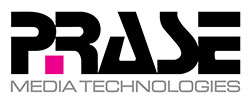 'The mission at Renkus-Heinz is to make every location sound better,' says Renkus-Heinz European Technical Sales Manager, Michal Poplawski. 'That requires more than just having product available in a certain area. You need to have a partnership in place with a team that is passionate, knowledgeable, and excited about the solutions you create. We are fortunate to have those qualities in our partnership with Prase Media Technologies.'
Headquartered in Venice, Prase Media Technologies decades of experience as a distributor focused on A/V integration for theatres, conference rooms, retail stores, museums, hospitality, cruise lines, railway stations and the broader entertainment industry. The Prase team works to bring a modular and custom-made approach to every project it is a part of.
Renkus-Heinz has provided loudspeakers for more than 40 years, and has developed digital beam steering technology for almost two decades. Its steerable solutions allow for audio to be positioned with precision in any application – keeping the focus off architectural peculiarities or reverberant surfaces, and directing it towards the audience. With supporting tools – from software suites to Android and iOS applications – the integrator and end-user are put in control of loudspeaker systems.
'The markets that Renkus-Heinz serves with quality sound aligns perfectly with our customer base,' says Prase Media Technologies MD, Ennio Prase. 'We are incredibly excited to offer premium solutions backed by the exciting innovation synonymous with Renkus-Heinz.'