Weibo Night celebrates Asia's biggest entertainment stars in a live event broadcast to millions. This year's awards were live streamed on social networking platform Weibo and broadcasted on Dragon Television from the Mercedes-Benz Arena in Shanghai. The gala featured China's most popular stars and hosted industry executives, who experienced the six-hour extravaganza over an L-Acoustics K Series audio system provided by Pro Group.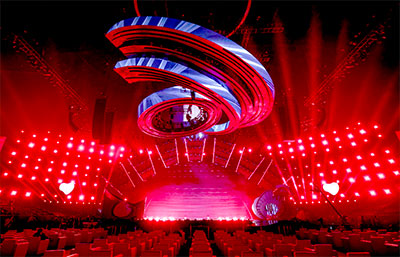 For the past 16 years, Shanghai-based Pro Group has supported live events across China, working. In 2020, Pro Group became China's latest L-Acoustics Rental Network Partner, purchasing its system through L-Acoustics Certified Provider Distributor, Rightway Audio Consutants (Racpro), whose team also supported Pro Group for Weibo Night.
Racpro and Pro Group used L-Acoustics Soundvision 3D modelling software to design the system for the massive production at Mercedes-Benz Arena. 'We've been to this venue many times before, so we had it laid out already in Soundvision,' explains Racpro, Marketing Director, Nan Hu. For Weibo Night 2021, a massive round stage, topped with a giant, metal-crafted Sina Weibo eye logo, which took centre stage above the main floor of the arena. 'When the stage design was sent to us, we were able to add it to our venue file and easily plan an audio system design that made perfect sense for this intricate production.'
The sound design consisted of 14 L-Acoustics K2 topped by eight SB28 subs per side. Four Kara II, with two X8 coaxial were used as front fill, with 20 additional Kara II used as side fill. Syva and Syva Low were discreetly placed just behind the award presentation backdrop, to ensure presenters never missed a stage cue.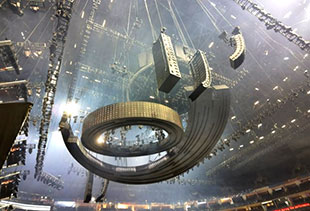 'With its wide coverage, visual discretion and plug-and-play installation, Syva helped us to address both side stage audience and backstage needs for Weibo Night,' Hu adds.
Due to the exclusivity of the event, most of the second and the third-tier stands were empty, leaving large swaths of area that could pose reflection challenges, but Hu explains, they were able to anticipate and overcome this challenge using the Panflex technology of L-Acoustics.
'The top boxes of the Kara II front fill hangs used a 90° angle, to keep sound away from the walls and empty spaces, and the bottom cabinets used the wide, 110° angle to give even coverage over the audience area.'
The event's Director of Sound, Xi Pei, and the lead engineer, Shao Yong, were thoroughly satisfied with L-Acoustics system performance. 'A superior L-Acoustics sound system like the one used for this show, guarantees that the production and presentation of the award ceremony goes well,' says Shao Yong. 'The L-Acoustics system did a fine job of supporting an event graced by some of China's most popular media stars.'