Pixel Nation has established a virtual production studio in the heart of Johannesburg's Rosebank district with content delivery based on StreamWorks – a new initiative from Stage Audio Works (SAW) that provides end-to-end streaming services, as well as support and expertise infrastructure from SAW.
Pixel Nation was created by a team of A/V professionals who operat in the live event space, particularly the corporate market. As the Covid-19 pandemic has forced in-person events off the agenda, Pixel Nation aims to deliver events virtually – not as a pre-recorded show, but as fully interactive, live events with participants from all over the world. 'In creating Pixel Nation, we're leveraging our expertise in A/V event content creation, production and delivery and transferring it to a virtual environment,' explains Pixel Nation Director, Mike Fynn. 'We're still creating amazing events, but participants are now located all over the world instead of under the same roof.'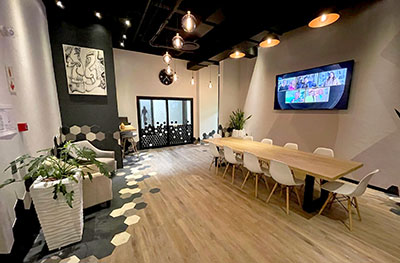 Already long-standing clients of SAW in the live events market, when it became clear that the business model would need to change, Fynn and fellow director Bradley Hilton turned to SAW for help with the live streaming element, an area in which they had little experience.
'We knew what we wanted to do – we just didn't know how we were going to do it,' Fynn recalls. 'Fortunately, Nathan [Ihlenfeldt,Stage Audio Works CTO] and the guys at SAW were already working on the StreamWorks initiative so we essentially handed over the project to them.
'Our new virtual production studio in Rosebank is built entirely on their StreamWorks platform for live streaming services, and they also provided much of the hardware that we didn't already have. However, the most valuable part of the service has been the advice and guidance we've had throughout the whole process, and that we continue to benefit from for every event that we host.'
'We have a completely SDI workflow that was totally new for us and works like a dream,' Fynn. continues 'We have about 20-odd screens throughout the studio and we can have audio on all or any of them whenever we want. We can create virtual environments and 'teleport' speakers in from around the globe so that it feels to the audience as though the speakers are on the same stage. The possibilities are endless.'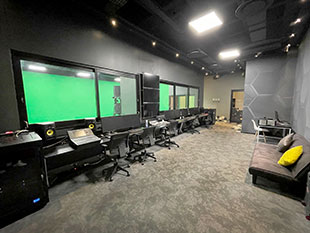 'In addition to being rock-solid, the StreamWorks platform enables us to extract far more data than we could from a live event, so we can deliver much better stats than previously,' he adds. 'For corporate business sessions, this is actually an improvement over a live event. Questions are much more targeted and relevant and can be dealt with more efficiently. Gone are the days of people passing around microphones that they don't know how to use.'
According to Hilton, the success of the StreamWorks integration has enabled Pixel Nation to compete globally, not just locally. 'We're working with international clients every day now. One of our most recent events was the Cornerstone Conference for the International Women's Forum which brought together hundreds of participants in more than 50 countries. It was a fantastic event that went off without a hitch and is a testament to the quality of the StreamWorks service. Nathan and his team helped us to bring our vision to life and I'm proud to report that we're now doing better than ever.'
'It's been inspiring watching companies like Pixel Nation make the best out of a potentially disastrous situation,' says Ihlenfeldt. 'It shows that innovation is still at the heart of success. We created StreamWorks to enable this, and I'm looking forward to seeing what challenges our clients pose us next.'