When the San Jose Civic Auditorium in northern California declared its sound reinforcement system officially 'outdated', it devoted part of the budget for its US13m renovation to solving the problem. Dispensing with its reliance on expensive outside equipment rentals to service shows and special events, the venue also saw a profitable way to generate income with its own PA system.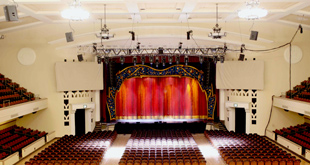 While local A/V contractor BBI Engineering provided the installation servicesfor the 3,001-seat auditorium, it was San Francisco-based Shalleck Collaborative that designed the HarmanPro audio reinforcement system that was installed.
The Shalleck Collaborative focused its efforts on addressing the 15,000-sq-ft floor of the venue and the balcony above. Installed at the main stage are 16 JBL VerTec VT4888 midsize line array elements, hung eight to each side of the stage, with eight VT4880A full-size arrayable subwoofers, four each side, with ten VP7212 loudspeakers for side fill and four VRX932LAP loudspeakers for front fill. The system also includes BSS Soundweb Blu-120 and 160 processing with a Soundcraft Vi6 digital console.
Ian Hunter, senior consultant for The Shalleck Collaborative, faced the challenge of modernising and retrofitting the Auditorium while having a minimum impact on the historic landmark's original structure. The building is recognised as a designated City Landmark, so it was important that historical workers and engineers worked in collaboration to establish rigging points in the ceiling without compromising the delicate structure. 'The Harman equipment brings a big sound to this venue that supports all events from local plays to big-name bands,' says Hunter. 'The entire installation turned out very nicely and has received great reviews from city administrators, fans and artists themselves. We are happy that our relationship with the Civic Auditorium put us in a position to design and install a system that allows the venue to attract great performances and continue providing great service to San Jose.'
Since the audio system installation, the San Jose Civic Auditorium has hosted concerts by Crosby, Stills & Nash, Steely Dan and productions of Disney On Ice, with more scheduled for the 2011 season and beyond.
More: www.shalleck.com
More: www.bbinet.com