The Skive Theatre has provided a focus for the cultural life on the Jutland peninsula in northwest Denmark for more than 125 years. Aiming to broaden its programme, the theatre recently updated its mixing to an Allen & Heath dLive system capable of keeping pace with an ever-changing events schedule.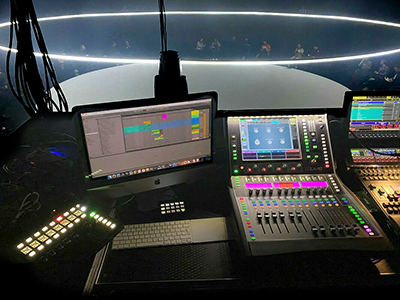 Key criteria for theatre Technical Manager, Anders Holm, included compactness, ease of set-up and the flexibility to handle anything from a handful of mics to a full live band. Another important factor for Holm was the ability to run talks and other simple events from a remote controller, without needing to wheel in a full console.
Holm, who is also the owner of pro audio rental and installation company AHX, opted for an Allen & Heath dLive system built around a DM32 MixRack and a compact 19-inch C1500 surface. The C1500 is mounted in a flipcase for portability and speed of set-up.
An IP8 remote controller supplements the surface, bringing the maximum number of available fader strips to 120. The IP8 also meets the requirement for straightforward hands-on mixing of smaller events. The DM32 is fitted with an AES I/O card, plus a Dante card for easy integration with the venue's Dante network. A portable DX168 I/O expander completes the setup, providing additional onstage connectivity.
'With the new dLive system, everyday life has become easier,' Holm says. 'Set-up and breakdown have gone from 15 minutes down to two. Plus there are a lot of new features that we didn't have in our old system – like the 16 FX engines and lots of multiband compression, as well as a very open bus structure. It's really fun to work with a desk where almost every conceivable configuration is possible.
'Compared to our old system, the sound quality has also been enhanced. The whole system sounds much more open and expansive. It's almost as if the frequency range has doubled.'
More: www.allen-heath.com