Chinese TV broadcaster Jiangsu TV has put the station's first true-IP-based vehicle on the road – a new 4K TV OB truck based around an IP audio infrastructure from Lawo, using an mc²56 MkIII audio production console, and ruby broadcast mixer.
Headquartered in Nanjing, Jiangsu TV employed system integrator New Digital Technology (NDT), Lawo's installation partner in China, to handle the seven-month project. 'Jiangsu TV is starting off producing in UHD with this new OB truck, and we plan to extend this method of production to our studios and master control rooms step-by-step', explains a Jiangsu TV official.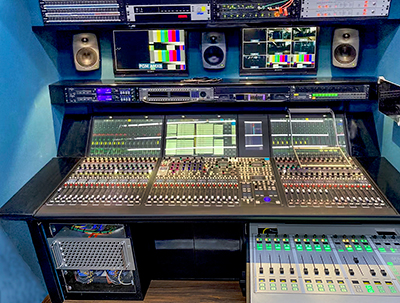 'Nearly all the provincial and local TV stations have followed the trend of UHD based on 4K, and now we are also moving in this direction. Lawo was an easy choice, as three of our OB vans already use Lawo consoles. The performance, reliability, and intuitive operation of Lawo equipment topped all other options, making this an easy decision.'
The OB truck has a 48-fader Lawo mc²56 audio production console as the main desk, its advanced processing and routing core providing 256 DSP channels, a capacity of 5120x5120 mono channels, 12 Ravenna ports, eight Madi ports and 32 AES inputs and outputs on both D-Sub and BNC connections. It has full native support for SMPTE 2110, AES67/Ravenna, Dante and Madi audio streams, and incorporates Lawo's LiveView technology to display thumbnail previews of associated video streams on the faders, enhancing user accuracy in fast-paced production situations.
The 12-fader ruby broadcast console serves as backup desk for the entire audio system. Two integrated stageboxes – an A__stage 64 with 32 Mic/Line-in and 16 Line out, plus eight AES in/out and GPI in/out, and Madi I/O, is paired with an A__stage 48 stagebox that's identical to the A__stage 64 but with 16 Mic/Line-ins. This combination allows great flexibility in integrating signal communications.
An adjacent touchscreen allows operators to control various features of the ruby mixer using Lawo VisTool, an advanced vector-graphic GUI that gives easy access to mixing, EQ and dynamics controls, and other software features via intuitive graphical controls. The ruby mixer controls a Lawo Power Core mixing engine, a 1U-high DSP devices with the ability to handle large amounts of analogue, digital and AES67 networked audio sources.
He Fangming, Chief Representative in Lawo's Representative Office in Beijing says that Lawo's steady commitment to Jiangsu TV has resulted in a rewarding partnership. 'With the experience gained from their previous OB vans, built in 2010, 2014 and 2016 and fitted with mc²66 and mc²56 consoles, Lawo earned a lot of trust, so that Jiangsu TV was ready to take the next technological step with Lawo. Ravenna-based audio solutions fully support ST2110, allowing direct integration with the 4K video system that avoids the previous need to bridge AES audio between the audio and video systems using a COTS switch as central router.'