Hosting hockey, basketball and indoor football as well as concerts, rodeo and family shows, the Budweiser Events Center (BEC) at The Ranch Events Complex in Loveland, Colorado, is home to the Colorado Eagles hockey team. The 7,200-capacity multipurpose arena is the focal point for sports and entertainment in Northern Colorado, offering approximately 200 events each year.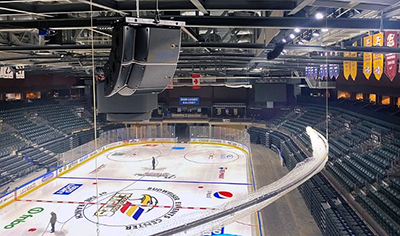 Larimer County, which owns the Spectra-managed venue, used the Covid-mandated downtime to install an L-Acoustics A Series loudspeaker system, which was designed and installed by Denver-based Brown Note Productions (BNP).
Although the facility is just 16 years old, the original loudspeaker system – a distributed point-source design – no longer met clients' or patrons' needs. 'The main issues were coverage deficiencies, poor intelligibility and the lack of availability of replacement parts,' says Spectra Director of Operations, Tom Manning. 'With increasing numbers of dead spots throughout the bowl seating areas, trying to equalise volumes was very difficult. In fact, in all of the customer satisfaction surveys that we did following sports or concert events, sound was the number one complaint.'
'BEC knew that they wanted to enhance the fan experience throughout the arena and provide high-impact audio for all of their events,' recalls BNP Director of Integration, Zach Richards. 'They identified some basic performance requirements and a target budget but did not request any specific products. When we decided to submit a design proposal, we knew that we would have to deliver exceptional performance and output with a minimal number of loudspeakers and amplifiers to stay within the required budget. It was this directive that steered us toward the L-Acoustics A Series, knowing that we could cover sizable areas of seating with relatively small array clusters while still delivering clear and consistent audio.
'Working with the L-Acoustics sports venue team, we used Soundvision 3D modelling software to develop a system featuring A10 Wide enclosures with SB18i subs. Moreover, with LA12X and LA4X amplified controllers, the entire system could be powered on just five amplifiers.'
In collaboration with the L-Acoustics team, BNP prepared a detailed design proposal that, in addition to the complete loudspeaker system, included system control via Q-Sys, a Dante infrastructure, structural engineering, and amplification for auxiliary zones. After an in-depth interview process, BNP was awarded the project based on the L-Acoustics A Series design.
BEC's new loudspeaker set-up comprises a total of 37 A10 Wide constant curvature enclosures, which are split into nine three-enclosure arrays and two dual-enclosure arrays flown around the centre scoreboard to address the bowl seats, plus two three-enclosure arrays mounted beneath the scoreboard to cover the ice rink. Two hangs of four SB18i subs deliver the system's low end, while two coaxial X12 short-thrown enclosures supply fill coverage to the farthest corners of the arena.
The system is powered and processed by one L-Acoustics LA4X and four LA12X amplified controllers, racked in a remote closet in the southeast corner of the arena, behind the broadcast booth. These are being fed via analogue from a QSC Q-Sys Core 110F configured with the L-Acoustics plug-in to provide operators with direct control and monitoring of the amplifiers.
BNP was faced with an aggressive installation timeline, with an original target completion date of less than three weeks after taking delivery of all the equipment. 'We completely demolished the old system – loudspeakers, cabling, DSP and amplification – in about four days,' says BNP Integration Project Manager, Matt Bauer. 'From there, we were able to pull all new cable, hang loudspeakers, rack amplifiers and DSP and be making noise in about two and a half weeks before the ice was installed in preparation for the team's first practices and season opener in February. It was crucial that we passed signal and listened to the PA's coverage before the ice went in, as some of the PA would be unreachable for about two weeks after the ice was installed. We were thrilled when we fired it up for the first time. The PA did exactly what Soundvision said it would do and we didn't have to make a single adjustment.'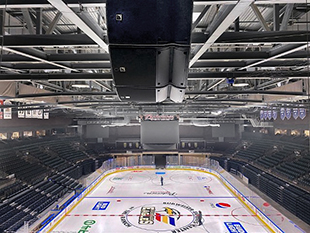 As a municipally-owned facility, BEC had to be mindful of budget coming into the project: 'While we initially considered other systems, we knew the box count and amplification would quickly exceed the budget based on the size of the arena,' Richards notes. 'Plus, we saw pretty quickly in Soundvision that A Series – A10 Wide in clusters of three, in particular – was perfectly sufficient to cover the seating segments of the arena with plenty of output.
A10 delivers concert-quality sound at a very competitive price, and is really allowing the brand to excel in the small- to mid-sized sporting venue market. The A Series puts L-Acoustics at a whole new level of competition.'
'The team here at Brown Note as well as the team at BEC could not be more thrilled with the results,' Bauer says. 'The coverage throughout the arena is seamless, and the system has tons of power. Also, this is the first time that BEC has had subwoofers as part of its house system, and I know that the extended bandwidth is going to allow them to add some great impact and energy to their games.'
'The new system fit our budget and delivers increased intelligibility and coverage,' Manning agrees. 'I have walked the seating areas during our first few games and have found absolutely no dead spots and failed even to distinguish when I was halfway between two clusters. It's such a refreshing change from our previous system.'
Although BEC's system went out for an open public bid, Manning notes that he was delighted to see Brown Note and L-Acoustics be awarded the project. 'Tony's Pizza Events Center, Spectra's venue in Salina, Kansas, has an L-Acoustics system, and their experience with it has been very positive. Plus, the L-Acoustics brand is typically what we bring in via outside production companies for our larger touring shows, as it's common to see their speakers be the preference of many touring artists. We've been pleased with their quality every time we've had their gear in the building, and now it's fantastic to have our own system in place.'
'Brown Note was also an absolute pleasure to work with – they were professional, independent, and accommodating to a constantly changing installation schedule due to team practices – and we can't wait for Eagles fans and our other patrons to hear our new system. I know it's going to bring a lot of excitement to the events we host here at BEC.'