While immersive audio performances have proliferated during a year of virtual concerts brought on by the coronavirus pandemic, the French electronic music producer ÉléphantMat (alter-ego of artist/producer/engineer Mathieu Rossier) has been creating live events in 3D audio for a number of years. Describing his music as 'organic and unlabeled techno, at the border of tribe, psyche, and prog', he is among the few artists who currently exclusively populate the 3D realm.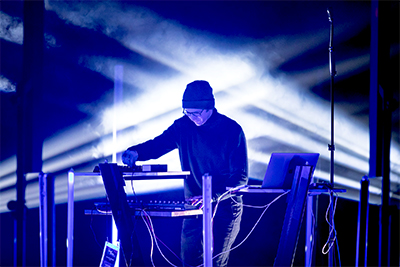 Rossier is also founder of Des Sons Animés, a 32-channel spatial sound studio where he hosts live 3D spatialised audio streams via his Facebook page, streaming Ableton Live screen and his live performance. Des Sons Animés is among the first private studios in France to use wave field synthesis in live musical applications. The studio is designed to virtualise a wide range of configurations, including object-based, Dolby Atmos, 5.1, 7.1, MPEGH, Ambisonic and Auro-3D. One of his indispensable tools is SPAT Revolution from Flux:: Immersive.
With most venues shut down, Des Sons Animés teamed with promotors BNK to create Capture, a series of livestreamed immersive events performed and recorded in national heritage locations. For one recent Capture event, Rossier's Des Sons Animés crew installed an 18-channel immersive system at the renowned Grand Palais, where ÉléphantMat presented a live two-hour spatialised performance piece. Des Sons Animés recorded the multitrack audio in object-based format, remixing the soundtrack using binaural encoding with SPAT Revolution. The event was streamed live without an audience.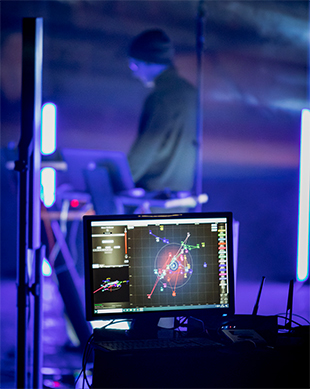 'We placed 16 speakers in a circle around me at a diameter of 8m, with two subwoofers outside the circle,' Rossier explains. 'Without an audience, we didn't have to concern ourselves with acoustic treatment for the space, which was far too large to really address. The distance from the speakers provided me with a good level of monitoring and placement.'
Rossier sent sequences from Ableton Live directly to objects within SPAT Revolution. 'For this project, I knew I wouldn't have any elevation, since all the speakers were mounted at the same level, so I used a 3D spatial partition, including elevation, which I then monitored in 2D on the Grand Palais set-up. SPAT enabled us to create two mixing streams, one for the studio monitoring and one for the stream's binaural rendering. Once back in the Des Sons Animés studio, all I had to do was send the recorded session into SPAT, with audio and data in OSC, and use SPAT's binaural rendering to lay it down to a two-channel mix for the video.'
Long a proponent of immersive audio, Rossier is keen to share the art with others. In addition to his own performances, Des Sons Animé offers residencies to artists looking to integrate 3D audio into their work. 'For me, working in stereo becomes almost prehistoric once you have composed and mixed in 3D,' he says. 'Once you've tasted the world of spatialised sound, there is an immediate addiction. One can play with space, depth, and elevation, add life to instruments, animate them with movement and trajectories. The score gains in intelligibility and the creative potential is dramatically increased. It's crazy – every artist should be able to try this creative approach.'
Rossier points to SPAT Revolution as an indispensable tool in immersive content creation: 'SPAT is an ideal tool for immersive audio. It responds to every mixing challenge I encounter, and enables me to mix in multiple configurations. For the Grand Palais mix, SPAT allowed me to create a binaural version that was faithful to my score's spatial intention. I was able to manage each object individually and use all the internal tools to optimise the rendering. The mix breathes, the spatial definition is superb, and the dynamics are precisely preserved. The results were simply wonderful. There is no other tool on the market that can manage this kind of project with this degree of stability and sonic quality.