Audio Design Desk has announced the retirement of the free plan for its Audio Design Desk Create professional sound design software.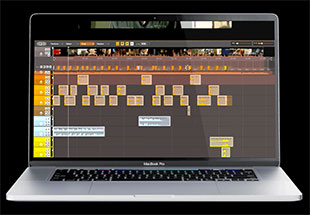 Create will become unavailable for download on 14 April, but will continue to function for any existing users. This news goes hand-in-hand with imminent news of 'the company's biggest announcement since launching the software'.
Used on Netflix, Amazon, Hulu, HBOMax and other platforms, Audio Design Desk redefines what it means to create with sound. The 2020 NAB Best of Show winner, Audio Design Desk uses Sonic Intelligence to find and place sounds in real time whether working with music, sound design, Foley, meditations or finding the right music cue for social media.
Audio Design Desk Create was introduced at the software's official launch in May 2020. Fittingly, the retirement of Create takes place alongside a promised step forward in Audio Design Desk's journey on 30 March, when the company will announce an update with new features that 'will offer new possibilities in audio creation'.
Audio Design Desk starts at US$15 per month for the Produce package. A professional version is available at US$30 per month or US$399 for a perpetual licence.
More: https://add.app