The first owner image of Audient's iD14 MkII audio interface to appear on Instagram was taken by Australian photographer and producer, Kristian Dowling – posted shortly after its launch.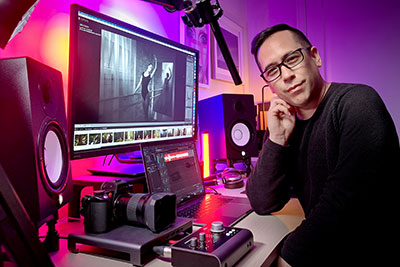 Dowling is a global celebrity entertainment photographer with upwards of 50,000 stock photos on Getty images alone. With a reputation for capturing images of the biggest names in entertainment, fashion and sports (Katy Perry was so impressed she took him on tour with her) it's unsurprising that the post looked good.
Dowling's new Audient interface replaces a first-generation iD14 in Dowling's studio set-up, which also includes the Sennheiser MkH416 mic and a set of Yamaha HS7 speakers, that is used to record voiceovers for YouTube and other productions. He's very happy with the brand, citing 'the quality it delivers for this price point… and it's also very easy to use, which is great for audio newbies like myself.
The upgrade to the iD14 MkII comes at a time when Dowling is venturing into the production of more audio and video content. 'This is a newish direction for me, but something I'm focusing on more these days,' he says. Indeed, his most recent production is a promotional video he's made for Leica in his capacity as the legendary camera manufacturer's ambassador. 'I work with their new SL2-S camera, and was asked to make a video and provide proof of performance. It's all part of my role, and I take my choice of equipment very seriously, for both audio and visual.'
'I was excited to see the new iD14 improves on many small but significant things' he continues, referring to the unit's increased dynamic range (126dB on the DACs and 120dB on the ADCs) as well as its dual headphone outputs and two extra line outputs.
'I love that it's now USB-C bus powered,' he says, highlighting that the iD14 (MkII) is powered directly from the computer, rather than needing a power outlet. 'While I don't necessarily "need" it, it makes the kit more portable and easier to set up. I also really love the new space grey colour and new logo which makes it look much more contemporary and matches my existing Apple equipment.'
Dowling is known for his flexibility and understanding of light, as well as his ability to capture cinematic-style images as showcased in The Ballet Story, released this month. 'I see myself continuing to work with stills predominantly, because I know that's where my passion lies. I will be pursuing opportunities that I'm passionate about.'
This includes running seminars and workshops for photography enthusiasts and offering personalised coaching sessions. He also has more YouTube videos in the pipeline.
More: www.audient.com