Outline's FPGA-based Newton processor has been granted an Italian patent (102018000004143). The company has also filed the appropriate application for an international patent.
Introduced in 2017, Newton has subsequently been adopted by leading audio hire operations and system engineers, delivering a unique feature set in a robust and user-friendly package. Innovation is woven into Outline's DNA, with many of its products already protected under international patents.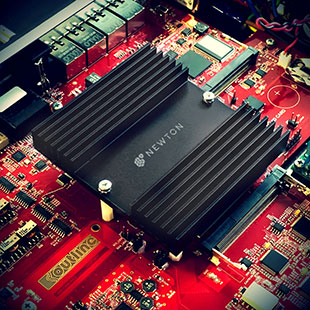 'It's well known that our company has been making a name for itself since the 1970s as a manufacturer of innovative audio electronics,' the company says. 'Latterly, we have developed DSP and digital matrices, as well as futuristic embedded solutions connected with signal processing, including iMode technology.
'This decades-long process continues, and the resulting hyper-specialised know-how within Outline's engineering team led naturally to Newton, currently the pinnacle of our proprietary technology and the leading edge of audio processor design globally. The Newton is currently the only FPGA-based device built into a single 1U networkable chassis that can simultaneously provide multiple audio signal processing/distribution functions plus clock signal management, along with a choice of interfaces for users and system integrators, all with the added safety of extensive backup facilities. Further, the whole feature set is easily and quickly accessible to any user.
'According to experts from different areas of the world, Newton redefined the current state-of-the- art in audio signal management and advanced processing, regardless of the size or complexity of the application. Newton is equally at home in live sound with festivals and concerts as it is in fixed installations, broadcast and studio applications. Newton manages to combine the most useful features of several different devices, a combination which delivers unique operational capabilities that were previously impossible.
'System engineers and audio technicians working with Newton report dramatically improved workflow and operating efficiency, alongside a significant saving on cabling and transport costs, and unprecedented audio performance.'
Another Outline patent lies at the heart of Newton's unique sonic capabilities, namely the exclusive WFIR 'warped' filters which claim ten times greater resolution on mid-low frequencies than traditional FIR filters.