An extensive upgrade of its sound reinforcement system has seen DiTech A/V install DAS Audio Vantec, Event and Aero systems at the First Baptist Church in Pealand, Texas.
Alongside its live event services division, A/V design/build firm DiTech A/V services the worship and commercial markets and was contracted to design and install the new sound system. 'First Baptist Church has an incredible 1,200 seat sanctuary that is contemporary in its design and is positively beautiful,' says Paul Guthrie, the firm's owner, who heads sales, system design and system integration, discussed the project.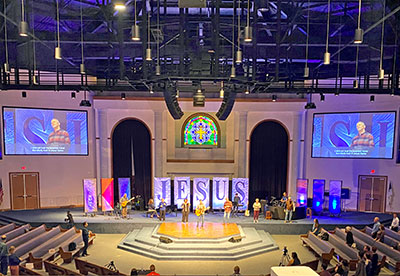 'The overall width of the space is 150ft with a depth of 140ft. The stage runs the width of the room with a centre 30ft thrust that projects out in front of the stage area. Seating is fixed with a capacity for 1,200 people and the congregation area has an incline, or rake, of 18ft from front to rear. Services are a blended style of both traditional and contemporary but leaning more toward the contemporary side. There is both a praise band and an eight-strong praise vocal team that provide an uplifting worship experience.'
The new system includes three DAS Audio Vantec-20A active line array enclosures that face the room from directly above the stage thrust, with a fourth Vantec-20A positioned 70ft into the room serving as a centre delay. Directly to the left and right of the center cluster, are two flown clusters, each comprising five Aero-12A powered line array elements, angled to face the left and right sides of the sanctuary.
For low frequency support, the DiTech A/V team used two Event-218A powered subwoofers positioned in the area above the line arrays within the stage trussing.
Guthrie highlights the importance of both speech intelligibility and the ability to accurately reproduce music as key considerations in the install. 'Several factors led us to choose DAS,' he explains. 'Ultimately, speech intelligibility was a crucial concern, because without this, the message gets lost. We also wanted the system to be very musical and live sounding. We wanted the audience to not only hear the music, but to feel it as well and, in this regard, the DAS system really delivers. Further, the integrated rigging and hardware made the installation process go very smoothly. The entire installation is very clean in appearance and is not the least bit visually distracting.
'I like to use DAS because they make great products that sound amazing and will absolutely blow you away,' he adds. 'It's easy to work with the company and they are always there to support you. I called Carlos Henao, the company's US Accounts Manager, told him what I was thinking and what I wanted to do, and he was right there when I needed him. For this project, we had a very tight window and Carlos went out of his way to make certain every aspect of the project was well taken care of.'
With the new sound system up and operational, Guthrie reports positive feedback: 'The new system is a night-and-day difference compared to the previous set-up – it sounds full, smooth, and exceptionally clean. I can finally hear and feel the low end.'
'I had a church member ask what we had done, or how we fixed the sound, because it sounded phenomenal,' says Worship and Evangelism Pastor, Omar Garcia. 'He said the music sounded great and you could clearly hear Pastor David Adams. Pastor David is happy because he can come down off the stage and get closer to the audience without any feedback. With this new system, we could host concerts if we wanted and not have any worries.'