Used in the recording of The Beatles' 'Penny Lane' and 'With a Little Help From My Friends' (and still in use today), the Steinway Vertegrand upright piano used by British pianist Gladys Mills has made its way into Spitfire Audio's library of instruments sampled in collaboration with Abbey Road Studios.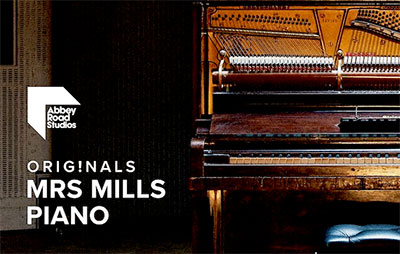 Known for decades by the studios' engineers as the 'Mrs Mills Piano' it was also used by the likes of Russ Conway and The Zombies during the Sixties pop era. As Spitfire's Originals Mrs Mills Piano it has been recorded in the Abbey Road Studio Two to capture its distinctive (slightly chorused, lacquered hammer-owing bright, metallic) sound and is offered as a lightweight (~4.6GB-) library with NKS (Native Kontrol Standard) compatible controls.
Originals Mrs Mills Piano contrasts with the film scoring approach of Spitfire Audio's Studio One as an result of the project venturing into Studio Two – Abbey Road Studios' most famous studio space, synonymous with some of the most popular pop and rock recordings of all time. As a versatile room that has changed very little since the Sixties, it has a warm acoustic that was originally tailored to accommodate smaller string sections and big bands – and was well suited to the recording requirements of Originals Mrs Mills Piano.
Constructed in 1905, the Steinway Vertegrand upright has resided at Abbey Road Studios since 1931, its distinctive sound owing much to Fifties-serving studio engineer Stuart Eltham, who sent it back to Steinway to achieve an older sound. Steinway's solution was to harden the hammers with lacquer to emulate the bright, slightly metallic tone of a tack piano with certain strings detuned for an old-time bar-room sound.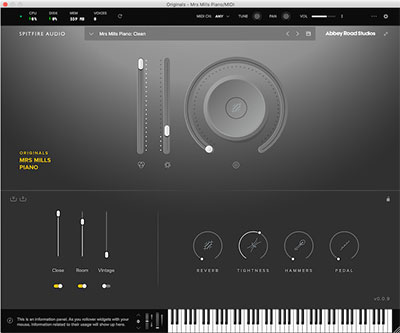 It is possible to tailor Spitfire Audio's Originals Mrs Mills Piano plug-in thanks to its range of signals, presets, and controls. These comprise Close (with a pair of Neumann U67 mics for a crisp, defined sound) and Room (pairing omni condenser microphones to give a spacious image of the piano and the room) controls are joined by a Vintage signal capturing the classic Sixties-vintage Abbey Road use of a AKG D19c microphone placed above the strings in the middle of the piano, recorded using an all-valve Studer J37 tape machine made famous by breakthrough multitrack recording of The album via an EMI REDD.47 mic preamp.
Five presets range from close and clean to spacious and reverberant – Close, a dry and upfront mix of the Close microphones with the mechanical sounds of the hammers and pedal; Clean, the Close and Room signals balanced for a controlled, yet spacious sound with minimal mechanical hammers and pedal noise; All Together, a blend of all three microphone signals, providing a versatile and characterful sound; 1968, recreating the celebrated sound of The Beatles classics with the Vintage signal; and Distant, the Room and Vintage signals with the Reverb paramerter turned up.
Six effects offer further control, with Reverb (one of Studio Two's Fifties-vintage EMT 140 stereo plates with the decay set to 2.5 seconds); Tightness; Hammers; and Pedal; plus proprietary expression and dynamics controls.
Originals Mrs Mills Piano is available as AAX, AU, VST2 and VST3-compatible plug-ins supporting Native Instruments' NKS (Native Kontrol Standard) for Mac (OS X 10.10 or later) and Windows (7, 8, and 10 – latest Service Pack) for an RRP of £29 (inc VAT)/US$29.00/€29.00 (inc VAT.
More: www.spitfireaudio.com/info/faq/spitfire-originals/mrs-mills-piano