Research from RH Consulting reports more than 91 per cent of the networked audio products currently on the market as of January 2021 offer Audinate Dante Audio-over-IP connectivity. Audinate itself notes the total number of OEM brands working with Dante at the same point to have reached 518, with 133 OEMs currently developing their first Dante-enabled product.
'It's inspiring to see how many manufacturers and product lines have aligned around Dante,' says Audinate SVP of Marketing, Joshua Rush. 'And with 133 OEMs working on their first Dante-enabled product, it's exciting to think about how much more the number will grow. This milestone shows how important Dante has become in creating an interoperable audio ecosystem.'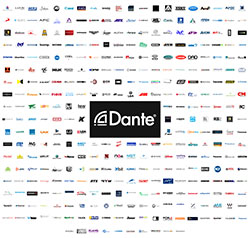 The numbers support Dante as the industry-leading protocol for digital audio networking, enabling the distribution of hundreds of uncompressed, multichannel digital audio channels via standard Ethernet networks, with near-zero latency and tight synchronisation. Dante also allows audio, control, and all other data to coexist effectively on the same network.
Assisting manufacturers wishing to incorporate Dante into their product line, Audinate continues to innovate and add solutions to the Dante portfolio:
The Dante Broadway chip is a blend of performance, features and economy for mid-tier products such as multichannel amplifiers, smaller DSP units, hardware interfaces, and compact mixing consoles. Broadway blends the small form factor of Ultimo products with the most popular features of the powerful Brooklyn II module, including latency as low as 0.25ms and support for Gigabit Ethernet. With up to 16x16 channels, 0.25ms latency, Gigabit speeds, and high of computing power, Broadway is the foundation for Dante products in many industry segments.
The Dante Embedded Platform is a software implementation of Dante that provides the tools for A/V as software. It comes with an SDK providing tools to develop Dante-enabled products built upon 32-bit and 64-bit Arm Cortex-A processors using a Linux operating system and supporting online licence activation for OEMs. The SDK allows manufacturers to validate their own designs for performance and capability, ensuring solid reliability for end-users. A Dante Embedded Platform SDK for x86-based audio products is anticipated for release in the near future.
The Dante Ultimo chip extends Dante networking to endpoint products such as powered loudspeakers, amplifiers, wall plates, and breakout boxes. As with all Audinate products, Ultimo has been designed for quick and easy integration and is supported by a comprehensive network-side API and a range of control interfaces. The accompanying Dante Ultimo Product Development Kit is a fully featured, standalone hardware development platform that facilitates designing and testing methods for integrating Dante Ultimo into products.
The Dante Brooklyn II module provides a complete, ready-to-use Dante interface and can equip a networked audio device with as many as 64 channels of bi-directional digital streaming. The Dante API and accompanying Dante Brooklyn II Product Development Kit allow for the creation of custom software that can be used for automatic routing, labelling of signals, custom control, and monitoring.
These options are supported by software, including Dante Domain Manager, Dante Controller, Dante Virtual Soundcard and Dante Via.
More: www.audinate.com