Preparing students for careers in the music recording industry, the Hudson County Schools of Technology public school district in New Jersey has opened a new classroom and studio complex equipped with two Solid State Logic mixing consoles – a SuperAnalogue AWS 948 δelta in the main studio classroom and an XL-Desk in a second teaching space.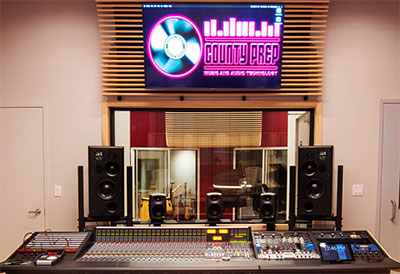 'We wanted to incorporate the sound of SSL, which is used on a lot of pop recordings, into our studio, with all the patchbay setup and components,' says Supervisor of Instruction, Wilkis Figuereo. 'We teach students how to write their own songs and produce their own music. As their senior project they put their own label together and release songs.'
The school programme provides vocational education for students in grades nine through 12. Students also receive Pro Tools and Dante network certification as part of their music and audio technology training.
'We are exposing them to being able to record in a professional recording studio,' says Figuereo, who is also CEO and founder of Itec Audio Studios. 'I wanted to make sure we brought some real-world experience into the space. And you've got to have a real analogue console for that.'
The AWS 948 δelta is installed at the front of a teaching space with seating for about 16 students that overlooks a tracking room containing a baby grand piano and two iso booths. 'I need my students to learn real signal flow using a real console,' Figuereo says. 'And I wanted to be able to use the AWS not just for recording into the digital realm but also as a fully functional analogue console. We're very happy with the console; it sounds beautiful.'
To help Figuereo teach students the intricacies of analogue audio signal flow, the AWS has a factory-supplied custom patchbay. In addition to the console, students are able to access a host of new and vintage microphone preamps, equalisers and dynamics processing equipment from a variety of manufacturers, installed in twin 19-inch racks. The setup also includes a Bricasti M7 reverb, a rack of 500 series modules and a pair of ATC main monitors to support stereo listening with a 5.1 setup of Genelec nearfield monitors available for surround sound projects.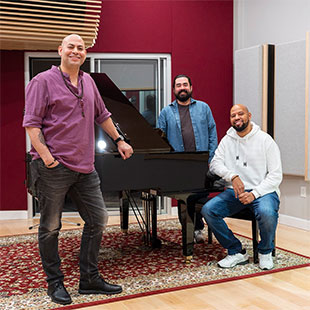 The studio sits on a facility-wide Dante network. The analogue patch panels feed the console directly and all inputs to and outputs from the AWS interface with Pro Tools. 'I also added a Dante interface into the mix, so I can capture and record 64 channels of audio from anywhere in the building and patch them into the console. And we can monitor everything throughout the recording studio and classroom spaces,' says Figuereo.
The first console installed at the school was an XL-Desk: 'It's in the classroom,' Figuereo reports. 'I call it a learning station – it's a smaller recording room with the same kind of set-up and outboard gear as the recording studio. We have the students learn on that in the beginning. Then we bring them into the big studio for large platform recordings with orchestra, grand piano and everything.'
The penthouse of the XL-Desk is filled with a variety of 500 series units – each delivering different flavours of preamplification and dynamics. Sitting at the far right is the 'crown jewel' of 500 series units – an SSL Bus Compressor. Monitoring is handled via a pair of Focal midfield speakers, and the XL-Desk is also fully integrated into the facility's Dante network.
Dave Kotch, co-founder of New Jersey-based full-service design firm Criterion Acoustics – responsible for studio builds at Atlantic Records in New York City and Glenwood Place in Burbank, California – handled studio acoustic and A/V design for the new County Prep facility. Veteran technical engineer Mac Bowne of Technophilia provided integration support. Construction began in late 2019, but with equipment deliveries disrupted by the coronavirus pandemic, the studio and classrooms were not fully operational until the start of 2021.
Figuereo, who grew up in Jersey City, is a long-time music producer and engineer who, for a time, shared a room with Chic bassist Jerry Barnes at Power Station Studios in Manhattan. He still occasionally works at the facility, which was renamed Power Station at BerkleeNYC after Berklee College of Music acquired the historic facility. 'We're now creating a partnership between our schools,' says Figuereo. 'Covid-19 has slowed the process down, but we're trying to create some internships for students who really want to go to Berklee.'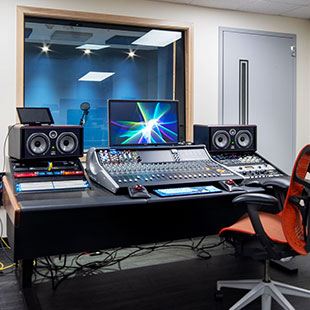 Figuereo is using his connections to provide County Prep students with unique learning opportunities at the school's studio. 'I'm very good friends with Nile Rodgers and Chic, so I'm going to have them in and do a workshop. They'll perform in the studio, the students will set everything up, and we'll track through the SSL console and give them some hands-on training.' In fact, he says, 'I already had the lead vocalist from Chic come in and record in our studio through the SSL, and it sounded beautiful. I didn't have to do much to it, it sounded so warm.'
The studio infrastructure also supports streaming: 'This was planned before Covid. We have a Crestron system with cameras and SDI connections everywhere. I'm able to show the console with a camera and I can talk about signal flow and how it works. We can have video in all the rooms for the students, and also livestream performances.'
Two or three years in the planning, the new studio and classrooms were built from the ground up, he reports. 'They normally don't do these kinds of things in high schools, but we got a lot of support from our superintendent and our administration,' says Figuereo. 'We're just trying to change the game. How many kids get out of high school and can say they've had training on an SSL AWS 948 console?'
More: www.solidstatelogic.com