Tampa-based ESI Productions has provided concert sound reinforcement systems and services for festivals, tours and corporate productions throughout the Southeastern US and beyond for the past 25 years. Having been the first sound reinforcement provider in North America to take delivery of an L-Acoustics K2 system, the company once marks another 'first' with, the arrival of L-Acoustics' K3.
'I found out about K3 from an L-Acoustics pop-up on my Facebook timeline on the day it was announced, and I immediately knew it would be a part of our inventory,' recalls ESI Productions President, Erick 'Otto' Celeiro.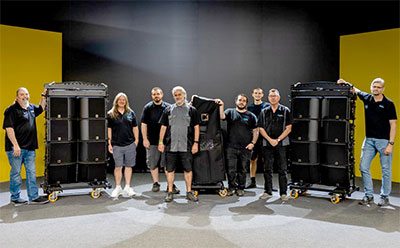 'K3's placement between Kara and K2 is a huge opportunity for us to have the right tool for those events where K2 might be overkill but Kara would require a flown subwoofer to match bandwidth. Its full-range performance from a compact form factor is extremely appealing and I foresee K3 fitting into many aspects of our wheelhouse, from corporate events to large club shows to festival side stages.
'I fully expect that we'll also pair our K3 as out fill to K2 main hangs, plus use Kara as down fill on both K2 and K3 arrays – there's a lot of versatility there,' he continues. 'But I imagine that our K3 will predominantly be used as a standalone system as they have a really smart bumper to stack them on KS28 subs, which will be quite handy.'
Celeiro says reason for being America's earliest adopter of K3 is his 'complete confidence in L-Acoustics'.
'K2 has absolutely taken ESI to new levels,' he says. 'I am not aware of any rock, EDM, country or other production we've done over the past seven years where an engineer or production manager has bucked on using K2. The L-Acoustics "sound" is respected and appreciated everywhere and it's made our jobs far easier. L-Acoustics has been our number one vendor partner since adding K2, which was the best investment we ever made, and K3 is certainly right up there as well.'
More: www.esi-productions.com