As the UK gradually moves towards easing lockdown restrictions, one of Greater London's most prestigious wedding venues is preparing by becoming home to the UK's first TW Audio Ella system, provided by local A/V specialist, Flipside Soundsystem.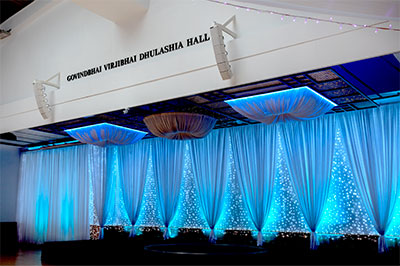 Located in the borough of Harrow, the Kadwa Patidar Centre (KPC) is a popular wedding venue within London's Hindu community, as well as being noted for its support of local education and charitable causes. Established in 1993, the venue offers two large, extensively equipped spaces with a maximum combined capacity of 950 seated guests. For the committee of volunteers who run the venue, every weekend of the year is booked solid with celebrations, while civic events frequently taking place during the week.
Until recently, the centre was reliant on an ageing in-house sound system that had deteriorated to the point of obsolescence. Rather than use it, event organisers were increasingly relying on hired portable speakers, with less than satisfactory results.
For Maintenance Director, Mahendra Dedakia, and Lettings Director, Hasmukh Patel, the need for a new audio solution was urgent. 'When we started out on this journey, Mahendra looked at a lot of different ideas and directions that we could consider,' explains Patel. 'We wanted to know what our options were. We host so many different kinds of events here – not just weddings but also corporate functions and things for the local people who live in this area.'
Among the considerations were the shape of the large main room – a 26m x 26m box with reflective surfaces on all sides and a wide, shallow stage framed by a low proscenium. Similarly, the 25m x 14m annex hall is highly reverberant with floor-to-ceiling windows.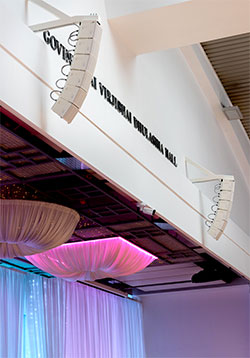 After much research, Dedakia sought advice from specialist Flipside Soundsystem, whose MD James Cooper proposed two possible solutions: 'I suggested Ella as the ideal solution, with a back-up variation of a more traditional point source system,' he elaborates. 'For a project like the Kadwa Patidar Centre, a full size line array would be ridiculous in the space and although a point source solution works, it still has its downsides... TW Audio's Ella is simply perfect for the many, many installs that are just like this one.'
Ella combines the slim form factor of a column with the flexibility of a line array plus built-in passive cardioid technology. Each Ella6 combines a custom waveguide with five 1-inch dome tweeters to reproduce frequencies up to 20kHz, matched with a custom high-performance 6.5-inch driver.
Flipside worked closely with TW Audio UK both on system design and the staging of a demonstration of the proposed solutions, after which the KPC committee immediately chose Ella. Now the centre's main room is equipped with five per-side arrays of Ella6, all painted white and mounted on the proscenium for maximum discretion. Two TW Audio B30i subwoofers are positioned beneath the stage for low-end support, while power is courtesy of Powersoft with a single Quattrocanali and single Duecanali. In the annex, four extremely compact TW Audio C5 enclosures are mounted in each corner, driven by a single Powersoft Duecanali.
'I pushed to do a demonstration for KPC because I wanted them to hear why Ella is so ideal for the space, and it went brilliantly,' Cooper reports. 'We just hung it up, turned it on and it sounded great. It's an insanely good system. As an installer that uses a lot of different equipment from different manufacturers, there isn't anything close to Ella.'
As preparations continue for what everyone hopes will be a very busy summer of weddings, parties and more, Dedakia is delighted with his choice. 'Both of the systems that were suggested and demonstrated by James from Flipside were excellent but Ella was outstanding. Speaking for myself, you have to hear Ella to truly understand how good it is.'