Italian OB provider Cinevideo has commissioned the new 12G UHD HDR truck, with a 40-fader Calrec Artemis and router core alongside a 96-channel Calrec Brio36 at the heart of its audio.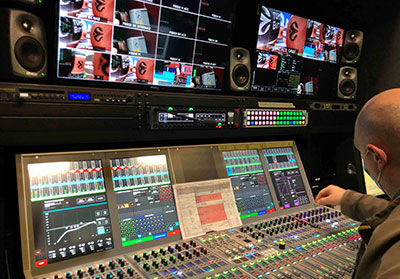 'We are receiving more requests than we can handle with one UHD truck, our Dolphin 7.0. Our Waves 12G truck – a 20-camera vehicle built without compromise as the infrastructure is all 12G – has already made its debut, at the Olimpico Stadium Champions League match between Lazio and Bayern Munich as a 4K production for Sky Italia Cinevideo Technical Manager, Roberto Buonomo, 'With our new Waves truck, we wanted to ensure that we are fully ready to support our customers with a high-end, UHD HDR truck as their UHD needs grow.'
Cinevideo was formed in 1983 and occupies a leading position in the Italian OB market with a large OB fleet specialised in High Frame Rate Shooting. It began its relationship with Calrec with two Artemis Light consoles for its Dolphin 7.0 unit, recognising that technicians and operators unfamiliar with the desk can quickly get up and running.
'With Dolphin 7.0, we installed a separate audio production room for the first time, which has worked very well,' Buonomo continues. 'We have done the same with Waves 12G, but rather than installing two Artemis and two router cores, we chose the self-contained Brio as the second console. It is so powerful and compact we only need one router core.
'The two consoles are connected using Calrec's Hydra2 which provides great flexibility and full redundancy. Very soon after we started using Calrec we began recommending them to others. The quality is very high across all aspects, including, of course, sound quality. We also appreciate Leading Technologies' help; despite the pandemic situation, the consoles arrived quickly and we are taking advantage of Calrec's remote commissioning capabilities to officially commission the consoles.'
'Cinevideo has taken a leading position with its new unit, expanding on what it did with Dolphin 7.0,' says Daniele Rolandi, Technical Broadcast Manager at Leading Technologies, who supplied the Calrec equipment. 'This has been an exciting project to bring to fruition, despite the considerable challenges presented by the pandemic and social distancing requirements. We are excited to see what Cinevideo can achieve with this new truck and its innovative infrastructure.'
It's always a real honour to be chosen to support a project that genuinely breaks new ground,' adds Calrec International Sales Manager, Graham Murray. 'Cinevideo has certainly done that here. We're pleased that the quality and flexibility of both our technology and service has, once again, been recognised.'
More: https://calrec.com