The Caudan Arts Centre (CAC) is a landmark arts and conference centre in Mauritius. Designed by Arup UK with systems integration services from Stage Audio Works (SAW) in South Africa, CAC is the first international-standard venue in the country, and incorporates a 431-seat theatre, rehearsal space, three bars, restaurant, and four well-equipped, modular conference spaces.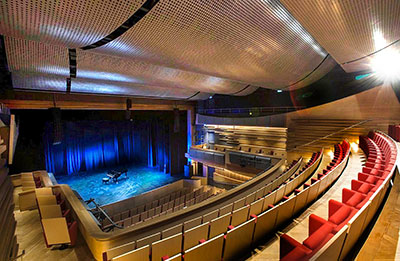 Having successfully designed (in conjunction with Arup), supplied and installed audio, video and communications systems throughout the venue, CAC recently called on SAW to design and install the systems for a fifth conference room. A soundproofed partition also enables the creation of an art gallery as required.
'We have been incredibly successful with our theatre and really pleased with all of SAW's work to date, so there was no question of not calling them back when we wanted to integrate our new conference space,' says CAC Sound Manager, Kooshal Dwarka. 'We have a d&b T-Series system with ArrayProcessing in the main auditorium integrated with Yamaha FOH and monitoring consoles across a Dante network. A Q-Sys Ecosystem handles control and management and integrates with our video show relay system based on Blackmagic Design video technology with SDI distribution. It's all very sophisticated.'
SAW also provided digital signage and BGM/paging solutions for the foyer and public areas, along with touch screen controllers to manage simple functions such as audio source selection, music player control and volume. Finally, a number of facility panels are located outside the auditorium and in the lobby and foyers.
'The theatre is quite often used as a conference venue for large corporate events, so it was important that the sound system is able to handle speech reinforcement as well as it does music reinforcement – ideally without really sounding amplified at all, and I think it does that very well,' Dwarka says.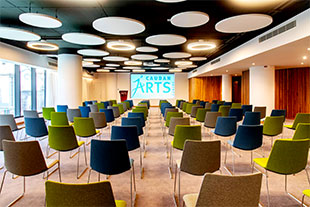 'T-Series offers a very comfortable power-to-size ratio, perfect for our 431-seat auditorium. It is capable of handling any type of music, from classical to rock and has enough headroom to handle powerful music without blasting the ears of the listeners, whilst the ArrayProcessing technology delivers even sound dispersion and consistent tonal balance throughout the auditorium for a really natural listening experience.'
A contrasting approach was adopted for the modular conference facilities, which are based around Christie projectors, Dalite screens, QSC loudspeakers and amplifiers and Sennheiser wireless systems.
'We wanted as interoperable and flexible a system as possible for the conference spaces as they can be used in such a variety of combinations and formats depending on the size and type of event,' Dwarka explains. 'While the new conference space called La Scala – which can seat up to 150 people – is physically separate from the other conference area, it made sense to have it based on the same equipment and on the same network, so SAW extended the theatre's Q-Sys network to incorporate the A/V system in the new room. The results are impeccable.'
Dwarka underlines both the quality and the fully integrated nature of the installation: 'It's the first of its kind in Mauritius, and it's right up there with the best in the world,' he asserts. 'We have unmatched sound locally which really makes the reputation of the Caudan Arts Centre. From an operational perspective it's reliable, stable and offers control and monitoring from a single computer with the appropriate software for each application. Stage Audio Works have done a fantastic job for us at every level. We couldn't have asked for more.'
More: www.stageaudioworks.com