CVA Electronica has announced a new commercial audio brand to sit alongside Next-proaudio – Next Audiocom – to launch on 1 April.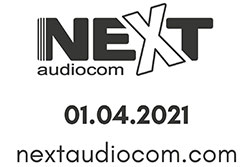 Based in Portugal, CVA Electronica (Next-proaudio) has a long history as a professional manufacturer developing, designing, producing and distributing audio equipment. Next Audiocom is a new audio brand that comprises three distinct product lines – installation, home audio and portable sound – based on European development and design, with products following the highest European quality standards, and using the latest innovations in the market.
'We´ve created this new brand internally in 2019 and we have been developing it since that moment,' says CVA Electronica Manager, Andre Correia. 'This is part of a plan to cover a different market segment knowing that the home and commercial audio sector has grown consistently over the past years. Next Audiocom stands out from the other brands on the market due to its ultra-light commercial structure, interactive e-commerce platform, technologically avant-garde products and innovative brand design. We think that, at the moment, the timing is perfect for the introduction of this new brand.'
CVA Electronica was founded in 1986 and currently exports (under the Next-proaudio brand) to more than 40 countries, with more than 5,000 customers worldwide.
More: www.nextaudiocom.com