Currently the highest-rated show in the history of cable television in South Korea, reality TV singing competition, Mr Trot, saw Daon SD field KV2 Audio VHD loudspeaker systems. The deployment follows the recent appointment of Daeon SD as KV2's distributor in the territory.
'This was a great showcase for us and KV2,' says Daon SD Director, BS Koo. 'Over the course of six recordings, we were able to experiment with different configurations as production requirements evolved.
'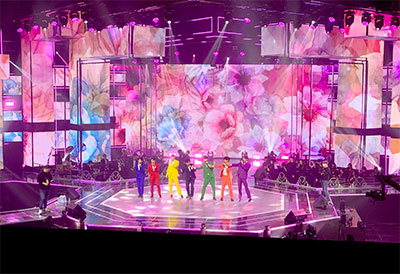 We and the whole of the production team were blown away by the results. One configuration comprised a main system of two VHD2.0 with four VHD2.16 and four VHD4.18 subs with ESM 26 stage monitors, while on another occasion we used four ES1.0 systems for mains supplemented with four ES2.5 subs. In both cases we had four ESM 26 monitors on stage plus two EX10s in the video production area and an EX6 as control booth monitor.'
After Mr Trot finals, the winners went on to perform alongside headlining K-Pop acts at the Korean War 70th Anniversary Memorial Concert that was staged at Haeinsa Temple – the first large-scale event to take place in Korea in the wake of the ongoing Covid-19 crisis. The space is able to accommodate a seated audience of 5,000 but social distancing rules dictated a maximum of 1,000 spectators at a distance of 2m from each other. The concert was recorded for broadcast on national television.
Located in the stunning Gaya Mountain National Park in South Gyeongsang Province, Haeinsa is one of Korea's Three Jewel Temples and home to the Tripitaka Koreana – the complete Buddhist Scriptures carved onto 81,350 wooden printing blocks. In addition to being classed as a Unesco World Heritage site, Haeinsa is of immense national importance, and was therefore a fitting backdrop for the memorial concert.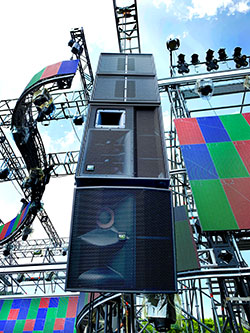 To host the event, a stage was constructed in 50m x 100m natural arena at the highest point of the temple grounds. The main system comprised a flown LR system of one VHD2.0 long-throw, mid-high enclosure, one VHD1.0 mid-high/down fill and two VHD2.16 subs per side supplemented by a further four VHD4.18 and ES2.5 subwoofers in total. Two ES1.0 delays and a pair of EX10s complete the system. Control and amplification was handled by two VHD2000s, two VHD3200s and six EPAK2500/Rs.
'Once again, the KV2 systems performed flawlessly and we received many compliments on the quality of the sound,' Koo reports. 'We couldn't have hoped for a better showcase with a live event of such national importance and many of the country's most popular artists. It is our task to bring the excellence of KV2 Audio to as many people as possible, especially within the K-Pop scene that is flourishing here, despite the pandemic. We have witnessed for ourselves the smiles of both the audience and the sound engineers when they hear what we can achieve with these systems. We hope to see many more world-class shows and musicals being performed with KV2 in the future.'
Based in the Korean capital, Daon SD distributes well-known audio brands in both the commercial A/V and live entertainment sectors, and supports its customers at every stage of their project from system design through to production, installation, logistics, technical support and financing.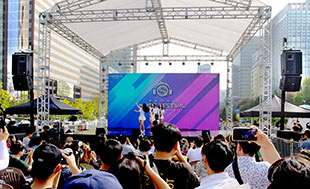 'KV2 has opened up a huge number of possibilities for us,' says Koo. 'We've been working with a team that performs sound design and optimisation for venues and other spaces using BIM design. We work closely with the team to ensure that a good acoustic device produces the best results, perform algorithm-based optimisation simulations, and determine the design of a sound system that fits the room. The BIM-based design starts the whole process by providing the client with construction specifications of an optimised architectural design, and at the same time determines a significant amount of the process load early on.
'We have found that for most scenarios, a stereo configuration of a high-quality, point source system is the best solution, so we needed to find a supplier of point source systems with good response characteristics. After much research, we concluded that KV2 Audio was the only alternative that matched our thinking, and we went from there.'