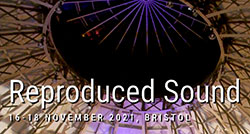 The UK 2021 Reproduced Sound Conference – You're on Mute – The importance of Audio – has announced dates and issued a call for papers.
'The importance of audio to our lives has been highlighted by the global pandemic. What will our audio future look like?', the conference challenges.
The conference will focus on all aspects of electroacoustics, and bring together practitioners, educators and students in November at the Bristol Hotel (in Bristol) 'with the friendly and enthusiastic buzz of past RS conferences'.
The committee invites papers on all electroacoustic topics including: Video Conferencing; Streamed and Hybrid Live Events; Acoustics in Rooms; Audio System Design; Audio Signal Processing; Installation Sound; Loudspeakers and Microphones; Immersive Audio; Speech Intelligibility; Measurement and Evaluation; Cinema and Broadcast Sound; and Case Studies.
Abstracts (150 words) for papers plus a short biography of up to 150 words are invited.
Submit: This email address is being protected from spambots. You need JavaScript enabled to view it.