Despite its location, when the concert hall at the Inderøy Kulturhus complex in Norway needed a new sound reinforcement system, its management were determined that the residents of the Trøndelag county municipality would enjoy the best possible experience by choosing an Alcons Audio LR7 pro-ribbon system.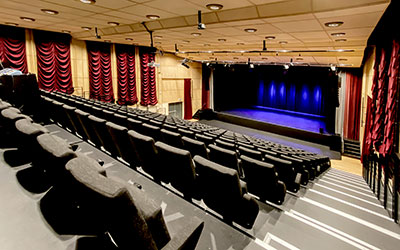 Opened in 1990, Inderøy Kulturhus was the first major cultural centre in the historic Innherred region of Norway. As part of a project to add physical education facilities for the primary school and premises for Inderøy Upper Secondary School, a sports hall, concert hall and service areas were built. Operated by Inderøy Kulturhus AS, the concert hall hosts a wide range of events to benefit the whole region.
Although this agricultural area has a low population density, the auditorium was designed with high-quality acoustics. By the mid-2010s, the original sound audio system needed replacing, so General Manager Arnstein Langåssve and so sound and ighting technician Lars Erik Fisknes approached Arnstein Fossvik of production technology specialist Trondheim Lyd, who introduced them to the Alcons Audio LR7 pro-ribbon line array system at the ProLight & Sound trade show in 2015.
While fundraising for a new system, the Inderøy Kulturhus AS team investigated a variety of alternative options, but every time the Alcons LR7 system was their preferred choice. 'We were convinced that the LR7 was the best system and finally, in early 2021, the dream came true,' Fisknes says.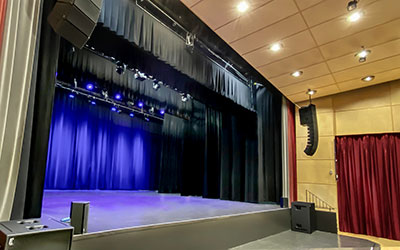 Trondheim Lyd supplied and installed a complete system, comprising 12 Alcons LR7/90 micro line array modules, six LR7/120 wide dispersion 6.5-inch micro line array modules, four single 12-inch LR7B micro line array bass modules, four VR8 compact 8-inch monitors (two placed horizontally) and two floor mounted double 18-inch BF362MkII high-output subwoofers. A pair of Sentinel10 amplified 4x 2.5 kW loudspeaker controllers power and control the system.
'In addition to delivering superior sound quality, the system had to be visually discreet,' Fisknes says. 'The hall has very good acoustics and the Alcons system precisely covers the audience, from the first to the last row, with extraordinary sound definition, linearity, clarity and intelligibility, combined with huge headroom and power. Everybody who has heard it loves it, and the response from touring technicians has been fabulous.'