Funktion-One distributor 303.bg overcame the geographical challenges of the global pandemic to specify and install one of Kosovo's first permanent Funktion-One sound systems. Located in Pristina, Fantazia, which is operated by renowned underground promoters Servis, is a bar and club concept with high-quality electronic music, sound and a policy of inclusivity at its core.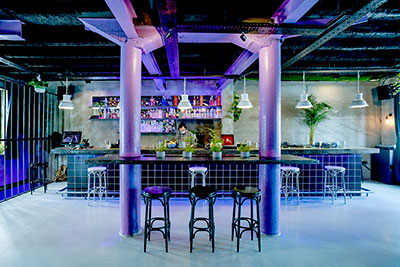 'Fantazia, meaning Fantasy, is the realisation of a long-term dream of ours to create a daily running home of music in Pristina, which would bring together music lovers and friends in a weekly curated programme, together with Funktion-One sound quality, says Servis co-founder, Leo Lumezi.
Servis was founded in 2016 by Lumezi and Patrik Ukiq as a club night, which has since expanded into a platform for unique creative concepts and collaborative experiments with its crew of DJs and designers working on projects in the arts, sound, film and fashion. The pair first met 303.bg's Benoit Vanderhaghen, when he supplied the sound for a Ricardo Villalobos show at Pristina's Zone Club in 2016, and reconnected in November 2020 as preparations for the new venue advanced.
Having relocated from Sofia, Bulgaria, to his native France to be with his family during lockdown, Vanderhaghen designed the system remotely using plans and photos of the venue.
'Everything happened very fast,' Vanderhaghen recalls. 'Three weeks after our call, the installation needed to be done. There was no time to fly there from Paris and there was also the budget to consider.'
Fantazia occupies a rectangular, 80m2 space on the site of a former butcher's shop, in a popular area of Pristina's city centre. With residents all around, there's a need for the sound system to impress within the venue and have minimal impact to the surrounding environment.
After explaining that compact Funktion-One loudspeakers offer the same sonic characteristics as the company's large-format systems like Evo and Vero, 303.bg specified four F101 mid/high speakers and a Minibass 212 with power from an F40Q-DSP (made for Funktion-One by Full Fat Audio) and an NST VR1 PoE (power over Ethernet) remote panel for volume control and pre-set recall.
'When I sent them the first offer, they said they would prefer something bigger and with the horns – they wanted the Funktion-One image,' Vanderhaghen explains. 'They were a little worried until we turned the system on, but then they were convinced they had made the perfect choice.'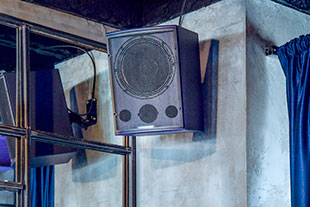 In order to carry out the installation, Vanderhaghen (with negative Covid test in hand) flew to Sofia where he was met by 303.bg technician Hristo Shterev. The pair then drove to Pristina to install the system. Due to the project still being in the construction phase, Shterev returned four weeks later, when the venue was complete, for the final calibration and tuning.
'Fantazia is built around our passion and commitment to electronic music culture, and providing a cutting-edge sound experience is essential to us,' says Patrik Ukiq. 'We are a bar with a clubby feel, so the system works perfectly for our space and concept.'
'The sound is sweet, with good projection,' Vanderhaghen says. 'The crossed-stereo set-up for the F101s makes for a great stereo image everywhere in the venue and the bass is deep and tight - powered by two mono-bridged channels of the F40Q-DSP.'
On working with 303.bg, Lumezi adds: 'It was a wonderful collaboration – their solutions and professional advice were very helpful.'