Palm Beach Opera brought nine days of innovative opera festival to Florida's classical music fans at the iThink Financial Amphitheatre in West Palm Beach. The socially-distanced event was the company's first outdoor, open-air festival to implement measures to ensure the safety of performers, crew and audience members.
With the venue falling short of the perfect acoustic environment associated with operatic performances, a sound reinforcement system was required. Sound design for called on Point Source Audio Embrace microphones for every principal performer, allowing each to 'self-mic' in line with Covid-19 protocols.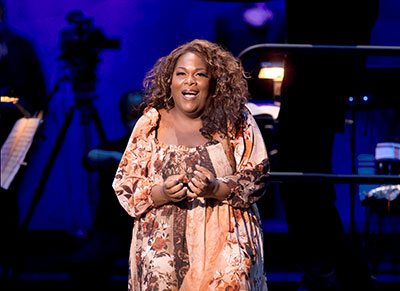 'Every principal got their own microphone,' explains sound designer, Paul Bevan, who has previously used Embrace to mic violinist Joshua Bell. 'I was a little apprehensive because who would think a microphone sitting back on the ear is going to give you enough gain in what is basically an arena sized venue with a huge PA system. But I knew right from the first note I heard that we weren't going to have any problems. There was so much gain and it sounded so clear.'
With the festival taking place during a pandemic, safety and hygiene were key to a successful production. 'We needed to put into place protocols that we could all feel comfortable with,' recalls Palm Beach Opera Director of Production, Jeff Bruckerhoff. 'The big tenets were being able to be outdoors for everything and being able to space people properly based on what guidelines we were finding along the way.'
The Embrace mics played an important part in helping the company meet its Covid-19 protocols due to the ease with which the principal singers could self-mic. 'The audio tech would hand them the pack and the mic, and then they would run it and put it on, and you didn't have to worry about it being installed wrong,' states Bruckerhoff.
'We showed them on the first day and after that, they did it themselves,' Bevan adds. 'And that these mics can be fully immersed in alcohol for cleaning is simply amazing.'
A further consideration was the appearance of the mics – a small form-factor being vital for the appearance of the performances. Embrace Microphones are engineered for concealing, with a mounting system that keeps the mic placement consistent. This delivers the best of lightweight and low-profile lavaliers, combined with the consistent placement of ear-mounted microphones.
'I love this idea that no one can tell where the microphone is and how it gets to be so present,' says Bevan. 'I love how great they sound, but also that you can't see them, this has been a great application for them.'
While reflecting upon the welcome return of live performance, Bruckerhoff shared the meticulous planning for the singers' 'zone of influence' designed for the productions of La Bohème, The Magic Flute and Pagliacci. 'They had to have 15ft in front of them with no other people and 8ft between them and another person. We had to lay out everybody in these different zones of 15ft x 8ft for the singers. These numbers are based on indoor work, not outdoor work, so effectively we doubled some of these requirements to ensure safety for everyone.'
'Everybody was thrilled with all of it – the clarity of the mics, how it sounded, what we put up Imag wise, commented Bruckerhoff. 'People were asking when we were coming back and a number of board members saying, 'you pulled that off, so I can't wait to see what you're going to pull off next'.'