Three of the six South Florida locations of the Christ Fellowship Miami church – have recently become showcases for the flexibility and scalbility that L-Acoustics Kara sound systems can bring to multi-campus houses of worship.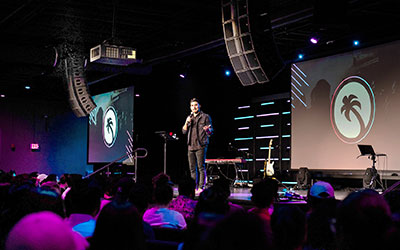 Designed and installed by Colorado-based Summit Integrated Systems, the installations accommodate various worship-space configurations and types, as well as offer consistent audio across all three campuses.
'One of my primary responsibilities is crafting the weekend experiences at all of our locations, and sound is a big part of that,' notes Christ Fellowship Miami Multisite Production Director Garrett Siljee, who oversees all AVL-related matters for the church, including campus technology design planning and tech staffing.
Siljee says he was first introduced to L-Acoustics at a product demo staged at South Florida's Miccosukee Resort & Gaming venue, where the K1, K2, and Kara systems 'just blew me away with their clarity, sound quality, and depth'.
'And I was impressed by how the sound was so much bigger than the boxes that made it,' he adds. 'L-Acoustics seemed like a company that keeps on innovating even after it has achieved great products. They just keep on improving their products, and that left an impression. So we invited Summit Integrated Systems to demo a Kara system for our leadership and staff here at our Palmetto Bay location and they were all very impressed with the sound quality as well.'
Systems for the Palmetto Bay, Doral and downtown Miami campuses were designed by Summit using L-Acoustics Soundvision modelling software. 'The church wanted a high-output sound system in all of its locations, to support its music and high-energy worship style, and Kara was the perfect choice for all of these campuses,' says Summit Director of Projects, Deron Yevoli. 'Kara can go everywhere this church wants to go because it's the most flexible PA system available. It's compact, powerful, and it covers well.'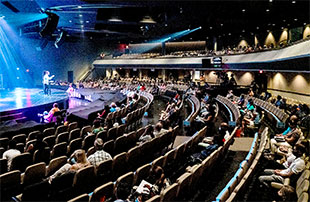 While the concrete walls at Christ Fellowship Miami's 500-seat Doral location keep the roar of nearby Miami International Airport at bay their reflective surfaces present an acoustic challenge. Kara's directivity kept the sound on the audience and away from the walls. The campus' system comprises 12 Kara(i) enclosures flown in two arrays, with eight floor-mounted SB18 subs, plus eight ultra-compact 5XT and two short-throw X8 as out fill. All are powered by one LA12X and four LA4X amplified controllers.
The nearby Palmetto Bay campus, which features a more traditional Baptist-type church design, also serves as the broadcast centre for the church's online presence. Here, 24 Kara(i) are flown in four hangs, with 12 SB18 subs on the floor, a dozen 5XT as front fill, and eight X12 for delay, all powered by a 12 LA4X.
The downtown Miami location, a former cathedral that is being renovated, is the largest of the sites Summit has worked on with Christ Fellowship. Scheduled to open by Christmas 2021, this will feature an L-Acoustics system and comprises 18 Kara II and eight KS21i subs. In addition, eight 5XT provide front fill with as under-balcony fill. The subs are powered by one LA12X, with seven LA4X driving the remainder of the loudspeakers.
'Multisite churches tend to want to have cookie-cutter buildings so that the looks and the sound are the same everywhere, but that's not easy to do in the Miami area, where the rents and the costs to own are so high,' Siljee explains. 'Having the L-Acoustics systems sound very differently in each location was my biggest initial concern. Even though none of these spaces are at all similar, Kara provides very consistent sound for all of the rooms we've heard them in.'
Yevoli points out that having a common and familiar system in each location makes training and operations easier for staff and volunteers. 'They don't have a lot of production staff, so we've encouraged them to standardise on key technology systems across as many locations as possible,' he says. 'We believe that you pick a good horse and ride it, which saves time and money in the long run.'
Siljee adds that the church also appreciated the manufacturer's customer care: 'The L-Acoustics team came to work with us to do the final tuning of each system, and the church responds well to that kind of personal interaction,' he explains. 'With L-Acoustics, you're not just buying a PA system; you're getting the company behind it, too.'
'What everyone, including our membership, has commented on is that the sound no longer hurts. Our old system was very harsh sounding; the new Kara system is anything but. Now, our churches can create the kind of energetic worship experiences we want and it sounds great. Kara turned complaints into compliments.'