Held in Cortina d'Ampezzo, Italy, the medal table for the FIS Alpine World Ski Championships 2021 shows Austria, Switzerland and France as the most successful nations of the competition. Behind the scenes of this major event was a set-up of technical equipment, installed and managed after by a technical team of experts –broadcast partner Infront Productions relied on a Lawo IP broadcast infrastructure with V__matrix, Lawo's Software defined IP Core routing, Processing & Multi-viewing Platform, and the V__matrix vm_dmv Distributed 4K IP Multiviewer. For overall broadcast control, Infront used Lawo's Virtual Studio Manager for IP broadcast control and workflow.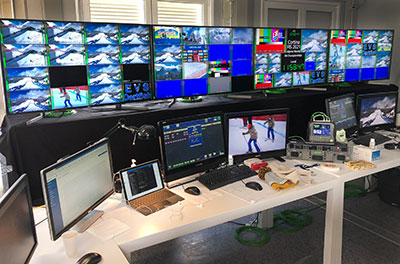 This V_Matrix system is identical to the one deployed by Infront Productions for the FIS Nordic World Ski Championship 2021 in Oberstdorf – another contest unique to the restrictions in times of pandemic that ran smoothly thanks to the performances of the athletes and organisers, and the broadcast technology in play.
Each of the Lawo V__matrix set-ups used for the two championships comprises 41 C100 processing blades used for streaming plus seven C100 configured with vm_dmv multi-viewing functionality. The VSM studio control system not only provides simple routing management but, with its configuration, it enables full flexibility and modularity so that it does not require reconfiguration for each event.
'The operators can create their own individual profiles on the software panel which can be used across all software panels which are available in the system', explains Filip Vojsovic, System Engineer at Lawo. 'Signal allocations on any of the panel positions can be adapted to the users' best needs, with all profiles saved and recalled by the push of a button. In contrast to operator views, the administrator management setting opens many different sections that allows for a more detailed technical configuration.'
This workflow-optimised panel configuration is the result of a long-term cooperation between Infront and Lawo.
More: www.lawo.com