The inaugural America's Cup World Series 2011-2012 has prompted world leading broadcast dry hire and systems rental specialist Presteigne Charter to ordere three mc²56 digital audio consoles and Nova29 router from Lawo.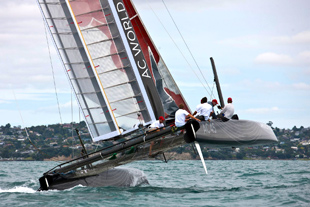 One of the most glamorous sporting events in the world, the event involves a global programme of regattas intended to promote high-performance sailing ahead of the legendary America's Cup itself. Starting in Cascais, Portugal, in August, the nine-day regattas will feature both fleet and match racing, and will be televised in HD internationally to millions of fans.
Presteigne Charter will supply the audio production facilities at each location, standardising on the Lawo mc²56 format, with additional mixing capabilities in the shape of a crystal on-air console.
This purchase extends a successful working relationship between Lawo and the Presteigne Charter Group, which first used mc²66 consoles in 2008 for coverage of the French Open Tennis Championships and subsequently the Olympic Games in Beijing. 'Our very positive experiences with Lawo's consoles on a variety of prestigious sporting events made the company an obvious choice for the World Series,' says Presteigne Charter's Paul Murray.
Each mc²56 console will have 48 faders (16+16+16), with similar HD cores using up to 8 Madi interfaces with a Dallis stagebox. On location, the desks will be installed into temporary control rooms, linked via Madi through a Nova29 Madi router. Presteigne Charter's choice of the Nova29 universal router provides the network with 1024x1024 I/O which can be switched transparently. The Lawo crystal on-air console will handle mixing multi-lingual commentary, primarily for internet and large-screen coverage.
Lawo regards the use of its equipment in high-profile events such as this as a demonstration of the flexibility of its design – the low-weight consoles are easy to set up in on-location control rooms, without any compromise of the full broadcast performance specification.
More: www.lawo.de