Hit-making Los Angeles studio Blue West, has installed an API 2448 mixing console, upgrading the facilities offered to clients that include Andre 3000, Kiko Cibrian, Wale, Ne-Yo and Pi'erre Bourne.
Run by producer/musician Bill Jabr and head engineer James Kang, the facility sought a mid-format console that combined analogue character with a modern workflow.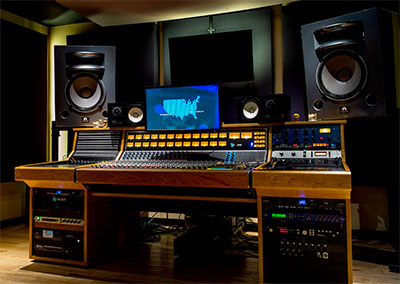 'Our API gives us a solidly built, quality analogue body that stands on its own,' says Jabr, who highlights the 2248's front-end tracking, monitor section and ease of use as standout features. 'Together with the convenient direct outs and small fader inserts for more tracks at mixdown, this all gives us the capability to track and mix larger projects in a smaller footprint.
'There is no better sound on guitars and drums than the API sound and the API "punch",' he continues. 'When we think of API, we think of classic Prince, Radiohead and a rich history of legendary recording artists that have pushed the limits of sonics and fidelity within the craft. It means so much to us to carry on this recording legacy and we feel very lucky to get to work on this console every day.'
Jabr opened his first facility, the Blue South production room in Atlanta, Georgia, in 2009, with Kang joining as his first intern. In 2014, the duo branched out west to LA,
'We approached breaking into the Los Angeles scene the same way we did with Atlanta, from the ground up,' Jabr recalls. 'We put our small set-up in the best room we could afford at the time and got to work. Six years later, our Atlanta facility has turned into one of the premier locations of the southeast, while in Los Angeles we've been fortunate to be a part of countless number one records. We're excited to be able to buy a classic recording console like the API 2448.'
The expansion to Los Angeles underscores the ethos of Jabr and his team: 'Through our journey we've been obsessed with serving artists and preserving the creative process at all costs,' says Jabr. 'Our goal is to make the studio a creative haven where artists can go to be unbothered and fully focus on their individual creative journey.'
More: www.apiaudio.com