Built in the 1950s by an association of trade unions and other organisations to allow the Swedish working classes to enjoy cultural experiences such as theatre, Göteborg's Folkteatern remains funded by regional government. The venue recently invested in TiMax TrackerD4 precision stagetracking automation so that audiences 'can keep track of who´s voice they are hearing when we use microphones'.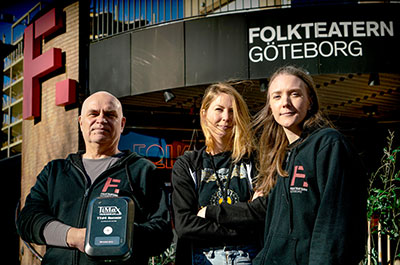 House sound engineer, Allan Antilla (quoted), specified TiMax TrackerD4 for the venue's main proscenium theatre because, as longstanding beneficiaries of TiMax tracker-controlled spatial audio, Antilla and the sound team at Folkteatern appreciate the time and effort that is saved while achieving significant improvements in sound quality and balance from the actors' radio mics. In his opinion, that time and effort can now be used to enhance the audience's experience of the artistic performance.
The TiMax TrackerD4 controls a Soundscape system which, as Antilla explains, 'really needed a tracking system to do what we wanted it to do, so TiMax Tracker D4 was the obvious choice'.
Folkteatern's alternative black box performance space has a TiMax SoundHub processor automated by a prior first-generation TiMax Tracker acquisition, ensuring a spatially-enhanced immersive experience for Folkteatern's audiences across both venues.
Antilla reports that he's very pleased with the improvements brought about by the introduction of the TiMax TrackerD4 system, explaining, 'as the audience find it easier to follow what the actors are saying, us soundworkers have much greater freedom with what can be added to the sound environment, without it just being a distraction'.