'About 20 years ago, I got a simple Pro Tools set-up on a Mac and recorded my own band, Electric Lemon. Since then, I've only dreamed of having my own studio, and recording and producing as many people as would let me.'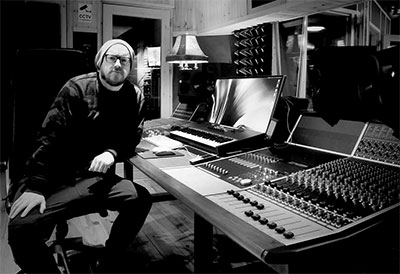 The latest chapter in the story has seen producer, engineer and musician Stuart Gray install an Audient ASP8024-HE mixing console – which he describes as 'just gorgeous' in his Jealoustown Recording Studios in County Meath, Ireland. 'The desk has changed the sound of everything I do,' he reports.
Accompanying the new console at Jealoustown is a Pro Tools Ultimate 2 recording system, Antelope HD32 converters and 'lots of other nice preamps and toys'.
'I'd been seeing these ASP8024s in studios for years, and I never really knew much about them,' he recalls. 'Then, a few years back, I watched Cenzo Townshend's YouTube clips of his studio and I literally was hooked on the look of the desk. I took a chance and contacted Cenzo on Instagram and he wrote back to me straight away –really, the man is a world of knowledge and had so much good to say about the desk. Then I had to figure out whether it would fit in my little studio…'
'If I'm being honest, I probably didn't realise that it would have such an impact on my sound, but – wow, it realy has,' he says. 'Honestly, the Audient has changed the sound of everything I do.'
'The worst part about investing in such a serious bit of kit is, you feel like everything you have done before that is substandard,' he continues. 'I sometimes wish I could go and re-record everything I've done before I got this machine. Sometimes people tell me, I'm actually the busiest man they know – and I will agree, I put my heart and soul into every project I'm lucky enough to work on. I really do eat, sleep and breathe music.'
Being busy – especially against the backdrop of a global pandemic – is no mean achievement. But Gray has yet greater ambitions. 'I feel like one of these days one of the artists I work with is gonna blow the roof of the music business and it will be the proudest day of my life,' he says. 'I feel every time I work with a new band I'm proud to get the opportunity and I'm always proud of the results.
'I am also proud that myself and my dad built my studio from the ground up. He was with me all the way and believed in me from the very first day. He watched me grow as a producer and always had an impressed look on his face, which just made my job so easy. My dad was a musician, my friend and my mentor. I lost my dad last year [2020], but I still feel him in my studio everyday.
More: https://audient.com