Considered one of the most modern capitals in North Asia, Nur-Sultan city is also one of the fastest growing cities in Kazakhstan in terms of its business, health, academic and cultural sectors. This vibrance has prompted the creation of a number of sport infrastructures, including the Martial Arts Palace – a clear example of the innovation that the Asian capital is carrying out in all its new construction projects.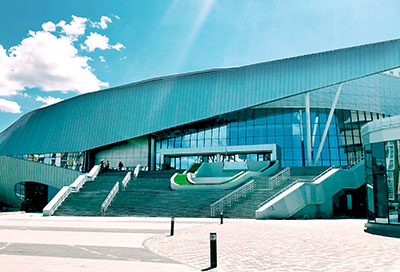 Occupying 32,000m2, the palace is designed to host all types of martial events, both national and international. Its main hall accommodates a seated audience of 5,000 and is equipped with the latest security, data storage, video and audio systems, thanks to work conducted by Infoline LLP.
The challenge was to get the right sound level in each and every area, especially in the main arena, where it was vital to guarantee that music and voice could be heard without any distortion, given the large size of the hall. This challenge would offer the audience an unparalleled experience, both at the main arena as well as in the other halls of the sports palace. With more than ten years' experience, it was clear to Infoline that DAS Audio would be the right partner for this kind of installation.
In the main arena, the distribution of the loudspeaker systems is designed to achieve uniform SPL and tonal balance throughout the audience. Infoline opted for 84 Event Series line arrays – in particular the Event-210A, a three-way powered model that provides high pressure and intelligibility in both voice messages and music reproduction – turning the main arena into a versatile space. The system's ease of use and installation means that maintenance and adjustment do not require additional efforts to generate a spectacular experience.
Completing the installation, are Factor- 8-T full-range loudspeakers – an 8-inch low frequency transducer with a 1.5-inch voice coil paired with a 1-inch soft dome ferrofluid cooled tweeter to provide the wide dispersion necessary to cover large areas with exceptional sound quality. BI Group, one of the largest construction companies in Kazakhstan that in charge of all the building work, expressed its satisfaction and enthusiasm about the results achieved for Infoline and the quality of the sound and customer service offered by DAS Audio. The DAS Audio systems were not the only ones present at the stadium; our engineers were also onsite during construction to make all the necessary adjustments before installing the system. 'Despite our years of experience in this type of construction work and stadium installations, we had never heard a sound with the quality and exceptional intelligibility offered by the DAS Audio systems.'
More: www.dasaudio.com