The production teams behind sound, video, lighting and broadcast at The Potter's House in Dallas make extensive use of technologies with which to deliver the message of churcs founder, televangelist Bishop TD Jakes, to his 30,000-strong congregation. Most recently, the audio system has undergone a significant upgrade with the installation of three Dante-networked Solid State Logic Live L550 digital mixing consoles, positioned at FOH, monitors and in the church's broadcast centre.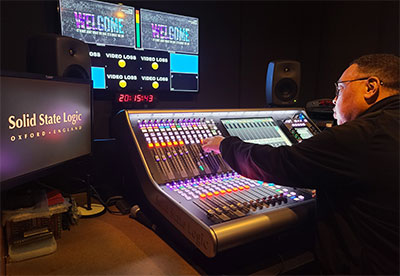 'As our ministry has grown over the years and we've started to do a lot of stuff that's outside of the norm, we started to run into walls because we just couldn't do it with our previous consoles. We have 160 or 170 inputs at times, and we were starting to run into input challenges,' says Production Manager and FOH engineer William B Barnett. 'So, as we've grown, and our technical prowess has grown, we decided we wanted a console that could do a little more, that sounds amazing and has more inputs.'
The three Live L550 desks offer a noticeable improvement both in operational capabilities and in the system's sound quality compared to the previous consoles, says Barnett: 'If you have to have a bunch of plug-ins to make your console sound decent then that's an issue. So we said, let's look at a console that sounds incredible, operates at 96kHz, has mic preamps with great gain, and is a fairly easy platform to use but has expansive programming.'
The 191,000sq-ft main sanctuary at the church's Dallas campus, built and opened in 2000, can accommodate as many as 8,000 worshippers and is equipped with a Sound Bridge Acoustic Labs Xyon line array system powered by Lab.gruppen and Powersoft amplification with Dolby LM26 processing. To cover the large expanse of tiered seating, the PA is configured with left and right out fill, front fill, under-balcony and upper balcony delay speakers, in addition to main left and right hangs. There are also feeds to the building's public areas, such as hallways and restrooms, plus a translation feed. With the previous FOH console, says Barnett, 'We were doing a combination of matrix outputs from the console and having to group some stuff because there weren't enough outputs. But with the SSL, everything is driven off of the Live console's matrix because we have so many outputs.'
The audio production team did their due diligence before purchasing the three L550 consoles, consulting with SSL's Western Region VP, George Horton, and Live Product Specialist, Fernando Guzman, and arranging several demonstrations of the desk over the course of many months. 'We were able to install the SSL in the main sanctuary and A/B it with our previous console. Out of the box, with no EQ, no insert, no anything, just running a CD through it, the difference was night and day. And when we put an SM58 microphone through it and voiced it, the transparency of the mic preamps was absolutely incredible,' says Barnett.
For monitors, the church is using the SSL TaCo (Tablet Control) mix app to provide wireless tablet control of the Live consoles from iPad and Android devices. 'Each musician has a tablet and mixes themselves with TaCo,' says Barnett. 'We're doing multiple channels of ears and multiple channels of monitors.'
Audio Supervisor and Broadcast Engineer Gerard Hairston operates the L550 console installed in the church's TV broadcast centre. Hairston, who has worked at The Potter's House for many years, was a member of the audio team that won a Grammy Award in 2003 in the Best Gospel Choir or Chorus Album category for A Wing and a Prayer by Bishop TD Jakes & The Potter's House Mass Choir.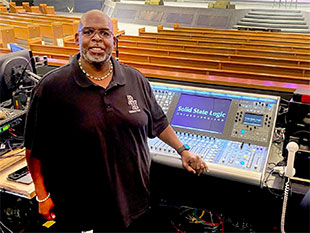 'We currently just broadcast to the web, although we have streamed to other locations,' he says. 'We've done a bunch of different configurations; there's not too much that we haven't tried. We still do a lot of different stuff, so even though the SSL console has a lot of ins and outs, we've almost got it maxed out. But this console will pretty much do anything we want to do.'
Hairston has long overseen the facility-wide audio signal distribution. While the Dante network offers much greater flexibility than the previous tieline system, the production team were skeptical at first, he admits. 'But it's been rock solid. And now our video side is also switching over to Dante, so we decided to free up some streams and use Madi to go to the recorder.' The Waves Tracks Live multitrack recorder can be operated from any of the three mix locations, he says.
The team is planning to add a couple of SSL Net I/O Madi Bridge units to integrate with the video department's Dante channels and to connect to two other venues at the church's Dallas campus. 'One of our main reasons for going Dante was so we could easily tie into our other venues,' reports Barnett. 'One is a 2,500-seat venue that we also do events in. We sometimes need to send or receive audio, or they need to record, or we need it for overflow. We also have a small room that holds 400 people; we're probably going to put that SSL box in that room, too.'
Ultimately, it's the flexibility of the SSL Live console and the way that it can be programmed to suit each operator's workflow that the team at The Potter's House most value. 'If you can think of something that you'd like to do, you can pretty much set the SSL console up to do it,' Barnett says. 'I have yet to find a situation that this console is not able to handle.
'I don't think I could walk behind Gerard's broadcast console, nor could I walk behind the monitor console, and totally understand what's going on,' he adds. 'That's because it can be custom tailored to do just exactly what you would like. It can be as crazy or as simple as you would like. That's just another one of the incredible things about the Live console.'