Canada's Dome Productions has unveiled a new all-IP SMPTE 2110 OB mobile unit, replete with a Calrec Apollo digital audio console, with the support of Calrec's regional partner, SC Media.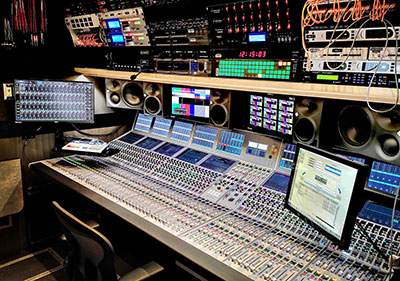 Called Gateway, the truck is Dome's first large-scale, all IP, UHD/HDR unit and takes advantyage of the fully redundant fabric, high density links, and flexibility for different workflows offered by the Calrec. It is currently being used for TSN and Rogers SportsNet on hockey broadcasts.
According to Al Karloff, Manager of Engineering Services at Dome Productions, the choice of the Apollo came down to several considerations: 'In the North American sports broadcast market, there are a few key pieces of hardware you need to have in the truck to be at the top tier productions and a Calrec console is one of them. It's important for our clients to have the power of the Apollo's 1,020 DSP paths, as well as the double layer of faders for direct access on the control surface. There's also a large A1 operator base that makes for better and more consistent productions for our clients, no matter where they are on the continent.'
Gateway eables the company to broaden its operations, and means that it is no longer tied to physical cabling. 'We're excited to take advantage of optimised and new workflows in all formats – HD, 3G and UHD. Now, virtual paths can be dynamically connected to change workflows depending on the show requirements,' Karloff says.
Dome has been using Calrec consoles for 20 years, and all different generations of the consoles can be found active in the company's fleet. The Apollo was commissioned by SC Media. 'The Apollo was the only console that met Dome's requirements – no other model could offer a surface with 144 faders, or the mix power of over 1,000 input channels,' says SC Media founder and President, Jean Daoust. 'We're proud to be partnered with companies such as Calrec and Dome Productions. The newfound addition of Calrec to our A/V portfolio has opened new doors for us in the broadcast media vertical, as well as provided incredibly innovative solutions to our already valued customers. The Gateway truck is an incredible project, and we look forward to building upon this success for all parties involved.'
'This is a big technological step even for a hugely successful name like Dome Productions,' adds Calrec VP of Sales, Dave Letson. 'It's great to see the continuation of our relationships, including with SC Media, of course. To have our Apollo be part of this project is fantastic and a testament to the versatility and the quality of our consoles.'