The many Basque architectural landmarks to be found in the Spanish resort of Donostia-San Sebastian have long attracted the rich and famous – including the ornate interior of what was once the San Sebastian Casino. Latterly, the space has been transformed into the plenary hall of the Donostia-San Sebastian Town Hall.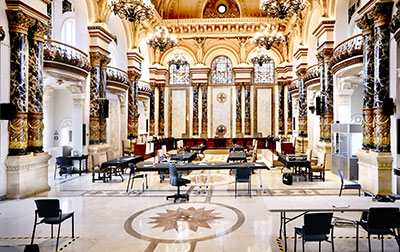 Dressed in marble and stone with vaulted ceilings, chandeliers and stained glass windows, the room is visually spectacular but sonically challenging – a serious problem for the meetings and events that are frequently hosted within the space.
'The plenary hall of the city of Donostia-San Sebastian is a unique space of extraordinary beauty and it is full of history,' explains Anselmo Calleja of Spanish A/V systems integrator, Sionua Pro, whose expertise was called on during the refurbishment of the hall.
'It is a space with high ceilings and reflective surfaces with a lot of reverberation. But high-quality audio reproduction is very important. The room hosts many different types of events such as high-level meetings, conferences, civic ceremonies, plenary sessions and even classical music recitals.
'In addition, various sources are used, from conferencing systems to lectern mics and wireless mics. From the beginning, it was obvious that a traditional audio system simply wouldn't work, we needed something special.'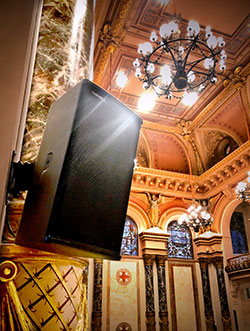 Calleja chose TW Audio's recently launched Ella as his solution, combining the slim form factor of a column with the flexibility of a line array plus built-in passive cardioid technology. Each Ella6 unit combines a custom waveguide with five 1-inch dome tweeters to reproduce precise high frequencies up to 20kHz, matched with a custom high-performance 6.5-inch driver.
'The most difficult thing was to ensure that the people who interact in the debates could understand each other clearly while at the same time the people who come to listen can also hear everything perfectly. The high reverberation times made this very complicated,' Calleja says. 'It was very important that the main system was cardioid while also offering the right coverage. It also had to be the right size – it would be unthinkable to have a room that's so beautiful and fill it with a big, intrusive system. Finally, because of the variety of events, it had to be possible to use the system in a modular way.'
The plenary hall is the first Ella6 installation in Spain. Working with his colleague Jorge De La Torre, Calleja equipped the room with four Ella6 enclosures per side, plus six M8i enclosures serving as delays to provide the modularity. In addition, eight compact C5i speakers are arranged to handle speech intelligibility within the meeting area. The system is powered by four Powersoft Quattrocanali amplifiers.
With the project now completed, Calleja is delighted with the results: 'This has been an important project for us because it was a very complicated challenge in a very important venue,' he says. 'With all of the work done, our client is very happy and I'm glad to say it has been a great success.'