Genelec is lending its support to the female creative collective She Knows Tech (SKT) inaugural online conference, the She Knows Tech Summit.
Taking place 5-8, March and coinciding with International Women's Day, the Summit is open to everyone, regardless of gender identity, and offers masterclasses, workshops, panels and networking events covering music production, audio engineering and music technology presented by inspirational womxn working in the industry.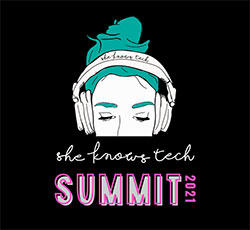 Budding musicians, producers, engineers, songwriters, artists and multi-faceted creators are all being welcomed, to learn how to take control of their artistry, from songwriting and performing, to production and engineering.
'Our core mission is to close the music industry's gender gap and to dispel the notion that womxn are not interested in music production and technology,' says SKT CEO and founder, Jasmine Kok.
'It's been a challenging year for everyone, especially creatives,' ads SKT co-founder Meghan Smyth. 'Now, more than ever, we're feeling a pull to gather the SKT community in order to share knowledge and inspire one another to stay focused on our goals. We designed the SKT Summit for everyone, whether you need a push to get back into a creative routine, or you're looking for some fresh elements to bring into your already-productive flow.'
'Being seen and having equal opportunities are one of the cornerstones of being able to reach your dreams and grow to be who you were meant to be,' says Genelec co-owner, Maria Martikainen. 'We at Genelec are very happy to support She Knows Tech, which aims to change the culture in our industry so that we are all being recognised. Equality and education are extremely important to us at Genelec, so this is a very natural collaboration. I encourage every girl and womxn to see all the possibilities in music technology, and find their way into the numerous different professions and roles in our industry.'
Founded at the Berklee College of Music, SKT has also drawn support for the summit from Ableton, Spitfire Audio, Women in Music, She Is The Music, the Audio Engineering Society (AES) and Keychange EU. All Summit participants will also get a complementary Digital Swag Bag, with extended trial codes, free plug-ins, and exclusive discounts from collaborating sponsors including Spitfire Audio, iZotope, Kilohearts, Baby Audio and Klevgrand.