Electronic music pioneer Suzanne Ciani has begun the preservation of her music catalogue with the assistance of engineer Bill Smith, Head of Archiving at Hollywood's United Recording.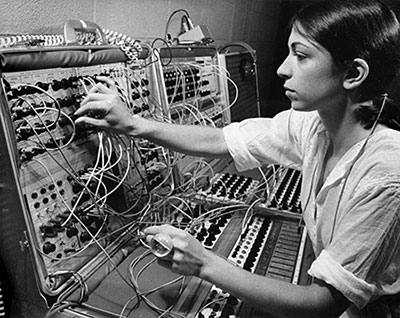 First to be recovered from the 24-track analogue masters is Ciani's debut album Seven Waves, released in 1982, and the 1986 release, The Velocity of Love. Following transfer to high-resolution digital, Smith is also archiving the half-inch stereo masters used for the original vinyl LPs, as well as the CD releases.
A graduate of Wellesley College, Ciani earned her Masters Degree in Composition from UC Berkeley, studying with such explorers of electronic music as Max Matthews, John Chowning and Don Buchla. She then moved to New York City where she pioneered sound design for television advertising with her Ciani/Musica production company.
Ciani provided the voice and sounds for Bally's groundbreaking 'Xenon' pinball machine, created Coca-Cola's pop-and-pour sound, designed sonic logos for Fortune 500 companies, and carved out a niche as one of the most creatively successful female composers in the world.
'When I recorded my first album this was before home studios even existed,' Ciani recalls. 'For my own albums, I would rent out a studio for a weekend and record for that weekend and then mix. I must have used a dozen different studios in New York – A&R, Sound Mixers, Automated etc. You name it, I was there.'
While managing her flourishing career in advertising, Ciani would work when the major commercial facilities were dark. 'I would haul my Buchla and other gear there,' she continues. 'I would be based there for a whole weekend, but keep in mind that the technology was changing all the time. If you look at the Seven Waves album, every piece of gear that I used was credited on the liner notes and the project was 100 per cent electronic. Over a two-year period, the album was recorded with whatever was available in that medium. It started out with just a few designers like Dave Smith and Don Buchla, Tom Oberheim, and a few others. By the time I was recording in 1980, you started to see the internationalization of electronic instruments. You had Yamaha, Roland, Akai and a lot of new players coming in.'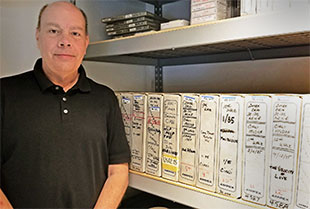 'Suzanne and I discussed at length how to properly archive the analogue assets for her first two albums,' Smith explains. 'We also discussed the possibility of remixing both albums in the Dolby Atmos format and I suggested she should also include in any releases a 24/96k hi-res remastering of the original stereo mixes as well. We discussed how these would best be released either on DVD in DTS 24/96k format or on Blu-ray disc in DTS/MA 24/96 format where there is also sufficient room to include uncompressed PCM audio files and perhaps some additional video or interview segments.'
After baking each of the multitrack and 2-track tapes, Smith used a vintage Studer A827 24-track analogue recorder for transfer from Ampex 456 tape and for the half-inch masters, an Ampex ATR 102 machine for the Ampex 465 tapes transfer. Archiving was done to digital 96kHz, 24-bit .wav files.
'These are albums that I own, because I was a producer,' Smith says. 'There is a lot of complexity in these original analogue recordings because it was all electronic music. Even 24 tracks is limited, and one track might be the domain of several different instruments because the sections of the music would change. First of all, when you go back this far, you don't know what you're going to find. I have a vault that came with me from New York 30 years ago. Everything is still in there. In New York all my tapes were in cold storage, and they were protected and so forth. But there is a timestamp on all of these formats because they don't last forever. I knew I had to reclaim the future of these raw materials. And so that's what we're doing now. The multi-tracks were pretty straight ahead. But there's only one set of multitracks.'
Smith's experience archiving individual tape catalogues for artists including Natalie Cole, preserving and organising extensive record label libraries, as well as his depth of knowledge and hands-on approach are key to United Archiving status in audio archiving, restoration and asset management. 'Bill has the patience of a saint and the highest integrity, so he doesn't short-cut anything,' says Ciani. 'His goal is to really do the absolute highest level of preservation of these tapes. He's like a private eye with a magnifying glass.
Having the digital transfers of the multitracks gives me the option of re-mixing, but in a different format, like Atmos. A lot of my music has been spatial. For instance, I recently recorded a live quadraphonic LP that was the first quad LP in 30 years. I am involved in spatial sound and so I'm looking forward to working with these archived masters to explore possibilities.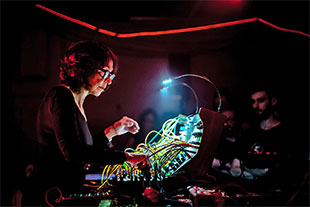 'Atmos is postproduction, spatial orchestration, and I've worked in spatial audio for so long, I have a lot of ideas about how I want to handle this material in an immersive format. There's a huge market now because people are recognising that quality and dynamics are back – spatial sound is becoming a very important ingredient. And I have an audience that can appreciate what I am trying to do.'
'We are very interested in working with Suzanne and other groundbreaking artists,' Smith adds. 'We are engaged in the archiving and restoration of legacy recordings with the goal of complete preservations of the original music, and then the remixing and re-releasing in modern day formats. Artists are repurposing their work in the most current formats to introduce important music to a new generation of listeners. The results generate benefits not only artistically, but financially.'
United Archiving's facilities are some of the most comprehensive and complete purpose-built archival rooms available. In addition to an extensive collection of vintage analogue and digital equipment, the studios also feature high-level security, climate-controlled tape storage, analogue tape baking via lab-grade convection ovens, cutting edge hardware and software, dedicated electrical power, custom-designed anti-static flooring and in-house technicians who maintain all equipment to the highest possible operational standards.
See also:
Controlling Interest (the development of synthesiser control)