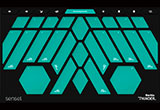 The very first synthesiser I owned was a Moog. And my second; and my third. I still have two of them, a Micromoog and Minimoog, but sold the third, an Opus 3, to help fund a Jupiter 8. Somehow, along the way, I'd borrowed an ARP Axxe and an Octave Cat, and would dearly have loved to get my hands on the Minimoog's early contemporary, an ARP Odyssey.
Yes, I was an East Coast man; I just didn't know it.
The East-West Coast distinction – along with the arrival of 'no-coast' synthesis – has gained prominence through the Eurorack modular synthesiser format introduced by German company Doepfer in 1996. The distinction centres on contrasting approaches to synthesis taken by Bob Moog and his Californian counterpart Don Buchla in the very early days. Where Moog adopted a 'subtractive' model, combining and passing simple oscillator waveforms through a filter, Buchla devised a 'complex oscillator', concentrating on creating complex waveforms through 'wave folding' before offering them to any filtering.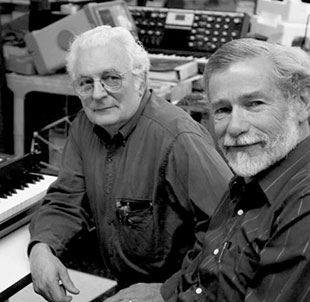 But there is a further distinction between the two pioneers' approaches to their fledgling instruments – control. On the East Coast, Moog was persuaded that a keyboard would bring syntheses out of the twilight world of knobs and patch cables into mainstream music making. Meanwhile, in the Pacific sunshine, Buchla was being steered towards new designs of controller, such as his Lightning and Thunder, in the interests of more esoteric musical ambitions.
In Bob Moog's corner was experimental composer Herb Deutch who offered invaluable direction to the inventor, and regarded a keyboard controller as a commercial asset. Let's not forget that Bob Moog was manufacturing Theremins long before he began work on his first synthesiser modules (and was to play a further role in defining synth expression control with the Minimoog), so the persuasive familiarity of the piano keyboard was by no means an automatic choice.
Moog was to produce the Model 956 Ribbon Controller, which was succeeded by the 1150 Ribbon Controller made (in)famous by Keith Emerson in ELP's live performances, alongside the Model 1130 Percussion Controller – a little surprisingly, not used as the trigger source for Carl Palmer's 'synthesised percussion' solos.
In Don Buchla's corner, meanwhile, was the San Francisco Tape Music Center, and in particular composer Morton Subotnik, who saw the synthesiser as having the potential to dramatically reinvent the way in which music could be composed and performed. Emasculating it by making it 'just another' keyboard instrument was not in his playbook. With encouragement from Subotnik, Buchla explored more amorphous control possibilities using electronic touchplates, accompanied by the ambiguous names that he gave to his synthesiser (still not a recognised term at this point) modules.
History has made the Moog name synonymous with synthesisers and cast Buchla's in an exotic supporting role. Buchla lives on and receives much love, but in spite of Subotnik's vision, the synthesiser is now commonly cast as a 'keyboard' instrument. How the early commercial analogue synthesisers crystallised out of a fog of possibilities and opportunity is a fascinating story…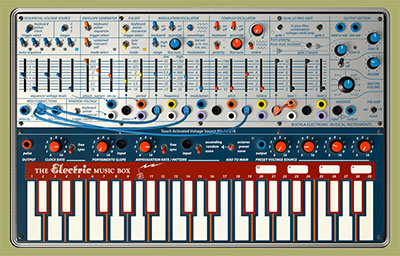 During my playing days, neither a modular Moog, nor any other modular, was a realistic option but represented some higher plane to which I never expected to ascend. The recent explosion in Eurorack – in both popularity and sheer available modules – could easily have drawn me in, as it has many others. So far, I have resisted that temptation.
The temptation I have failed to resist is the arrival of classic synthesiser emulation plug-ins (due in no small part to Arturia's V Collection), particularly those whose original hardware I have either owned or known. And these models of modulars – most particularly Arturia's take on Buchla's Easel, and Buchla's partnership with US company Sensel over a Thunder overlay for the Sensel Morph MPE/Midi controller – has reignited the issue of controllers, if only for me.
In fact, by the late 1980s, Don Buchla himself had stopped creating instruments and redirected his focus to Midi controllers including the Thunder, Lightning and Marimba Lumina.
Founded by former Amazon engineers Ilya Rosenberg and Aaron Zarraga, Sensel specialises in OEM touch sensor interfaces with haptics. Along the way, the company has developed the tablet-sized Morph surface, which can be used as a drum machine, traditional Midi keyboard or production control surface by the use of changeable 'overlays'. The recently added Buchla Thunder Overlay also has presets that extend its control possibilities – with Arturia's Buchla Music Easel presenting itself as an ideal candidate.
According to the company, 'the Buchla Thunder is uniquely well-suited to a variety of instruments – from synthesisers with rich and evolving timbres, to acoustic samples that benefit from a more human touch, to hardware synthesisers like the legendary Buchla Easel'.
Sensel is not alone in its revival of early alternatives to the piano-style keyboard synthesiser control, as evidenced by the Analogue Systems French Connection and Doepfer A-198.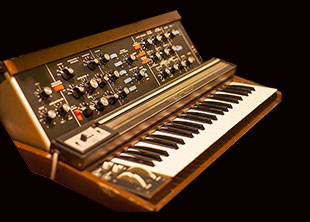 Having used the Ondes Martenot on their Kid A album, Radiohead's Jonny Greenwood commissioned UK company Analogue Systems to develop a touring version – now produced as a commercial controller, the French Connection imitates the Ondes Martenot's control mechanism with a finger placed through a ring suspended below the physical keyboard and played like a ribbon.
The A-198, meanwhile, is a manual/ribbon controller that forms part of Doepfer's Trautonium Project, integrating the Trautonium and modern Eurorack modular systems.
To add a sense of historical and geographical perspective here, the Ondes Martenot (France) was invented in 1928 and the Trautonium (Germany) around a year later, with the Hellertion (Germany), which uses a fingerboard/continuous controller instead of a keyboard manual, following in 1936. Bob Moog founded RA Moog Co in 1953, with Don Buchla's Buchla & Associates created in 1963.
A further piece of 'controller history' is offered by the used of a piano-style keyboard for mictrotonal control (17-note octave) by Bob Margouleff and Malcolm Cecil's Tonto – The Original New Timbral Orchestra – in New York in the early years of the 1970s.
Let's not forget that control of a synthesiser, whether hardware or virtual, is also highly dependent on its user interface. This may be knobs and switches (and patchcords in the case of modulars) or screen graphics in the case of software. Sometimes it's easy to overlook that, as well as providing control of an instrument, its interface gives visual feedback on its setup and operation. And the best software emulations also evoke something of the tactility of their hard parents
Inherent in hardware, this is also an essential part of software instruments – and especially those modelled on hardware. And most especially to anyone having used the hardware before software.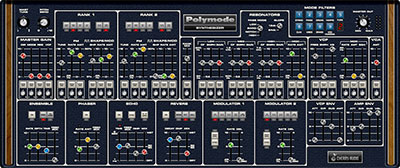 With that Moog Opus 3 to my name and a couple of hours' hands-on with the Polymoog around the time of its launch, I reckon that the GUI of Cherry Audio's new Polymode plug-in hits the mark well – as did the company's earlier CA2600 (ARP 2600). Arturia's V Collection and Martinic's Elka Panther – as well as the unacknowledged, yet unmistakable, use of Moog and Roland inspired graphics of the U-He Diva – also indicate that development teams behind them have understood that good representation of the original hardware is more than just an acknowledgement of classic styling.
For those unattainable modular systems and other synths and 'keyboard instruments' that might have so far eluded some of us, software offers an unmissable means of getting to know them and their quirks.
Of course, keyboards (keybeds) themselves are different and are often an integral part of how an instrument feels to play and is heard. Hammond, Mellotron, Minimoog… none offer velocity or aftertouch, but all are distinctive parts of those instruments' playing character. And these are 'unsophisticated' keybeds as compared to the complexity of pianos. Pairing Midi controllers with software versions of instruments simply ain't the same.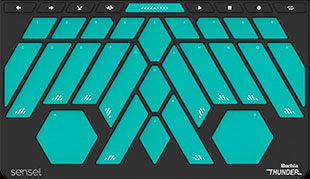 And yes, there are controllers other than keyboards for synthesisers/sampler/romplers – the SynthAxe and various Midi guitars, Akai and Yamaha's wind controllers and latterly matrix controllers that centre on beats and samples, such as Native Instruments' Maschine, Arturia's BeatStep and Novation's Launchpad to name but a few. More recently Roli has sought to bring greater control potential to the familiar keyboard with the additional expressive capabilities of its Seaboard, and found favour in certain quarters.
For me, the Morph with its Buchla overlay offers the most 'alternative' means of synthesiser control at this point. It's open to debate how 'musical' it is – Morton Subotnik would no doubt argue that your opinion reflects your openness of mind. More pragmatic users would probably cast it as better suited to sound design than music composition or performance.
So...
I'm aiming to pair the Morph/Buchla Thunder controller with Arturia's Easel and Newfangled Audio's Generate chaotic oscillator synth to see what Subotnik had in mind – and then work my way through the remainder of the synths in the V Collection to see what might have been in a Buchla-Subotnik alternative future.