The AES has announced details of its AES EDM Academy, set for 11 March (10am to 5pm ET) online, with a full day of sessions covering the latest trends in technology, tools and techniques for EDM production and performance.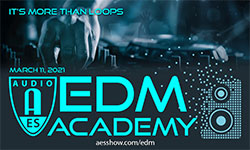 In this first-ever AES EDM Academy event, industry pros will guide attendees through a host of topical sessions covering both the artistry and techniques used by today's hottest EDM artists and producers.
Registration includes access to on-demand replay of the event for an additional two months for AES members (two weeks for non-members). Additionally, attendees will receive a certificate of achievement for participating in the AES EDM Academy sessions.
Sessions will include The Most Important Tool in your Arsenal, with AES EDM Academy co-chair Alexandra Bartles taking a fresh look at hearing and sharing critical knowledge about how hearing works and how to protect it, and Education to Industry as an Artist, with Funk Cartel brothers, Rory and Cam Cochrane, discussing their self-driven artist development strategies, the importance of understanding the audio engineering aspect of music production, and how they continue to carve out their place in the music industry.
In Do Your Kicks Punch?, Dr Rick Snoman will explain how to tighten up the most important element in an electronic dance track, the kick drum, examining the different methods used to synthesise kick drums, alongside the various ways to use processing to ensure that kicks punch through the track and translate properly to the dance floor, while Roska offers a unique Insight into Roska and the UK Funky Genre.
Studio Monitoring 101 will offer a comprehensive explanation of the correct set-up, placement and types of studio monitoring for EDM production from Stephan Mauer, head of product at Adam Audio since 2018.
Registration is US$20 for AES members, and US$40 for non-members.
More: http://aesshow.com/edm