Marking its 50thAnniversary, Eventide is highlighting the products that established the company as an audio technology leader and laid the foundation for its future innovation through a series of 'flashbacksf.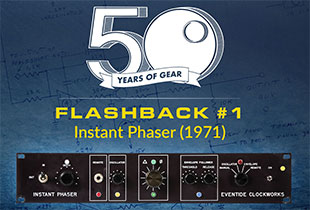 The first product in Eventide's 50th Flashback vignettes is also pro audio's first rackmount effects unit, the PS 101 Instant Phaser. Introduced under the Eventide Clockworks brand in 1971, this provided a sonic whooshing effect developed from novel processing concepts, including the notion of using the 'envelope' of the signal or a Control Voltage to drive the sweeping effect – concepts still routinely employed in audio processors. The Instant Phaser derived its effect from a series of analogue all-pass filters and featured two 'decorrelated outputs'. The PS 101 became a go-to tool for both live and studio sound engineers, and its iconic sonic imprint can be heard on countless recordings.
The second Flashback delves into the history of the DDL 1745 Delay, the world's first digital pro audio unit. A one-off version of the DDL had been sold to Maryland Public Broadcasting prior to its further development as a one-input, two-output commercial product with each output offering up to 200ms of delay (adjustable in 2ms increments).
Prior to 1971, recording, film and broadcast gear was electromechanical and analogue – the term 'digital' had not yet entered the public, let alone the audio, lexicon. The DDL 1745 was made possible by serially deploying more than 100 of a break-through semiconductor chip – a 1kb shift register – flanked with Eventide-designed digital converters (no suitable off-the-shelf converter chips yet existed).
The DDL 1745 gave studios a cost-effective way to replace the tape machines used for double tracking and for pre-delay to feed plate reverbs, plus it offered the ability to produce comb filtering and effects like degradation-free repetitive sound loops. Live sound embraced the DDL 1745 as well, where in a notable early application, a stack of DDL 1745s were used to time-align delay towers in a 1973 festival sound system specified by the Grateful Dead.
'We'll be celebrating our 50th Anniversary all year long,' says Eventide 'resident fossil'/MD and curator of the historical Flashback perspectives, Anthony Agnello. 'Over the next few months, we invite you to join us for deep dives into legacy Eventide products including the Omnipressor dynamics processor, the Instant Flanger, the H910 effects processor and its successors in the Harmonizer line – the H949 and H3000, and the SP2016 – the world's first general digital audio processor which also introduced the concept of the plug-in.'
More: www.eventideaudio.com