Technological Innovations Group (TIG) vendor partner, Guide Systems has published a White Paper on how to reduce energy consumption in business A/V settings.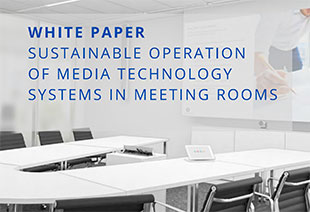 A leading sales agency for collaborative smart spaces and enterprise communication services, UK-based TIG specialises in high-end products aimed at reducing operating costs – the principal reason that it formed a partnership with Guide, which is renowned for its German-engineered and manufactured power distribution units and remote power monitoring systems.
The White Paper, created in collaboration with macom GmbH, seeks to address the question of sustainability including savings in power consumption and a reduction in CO2 emissions. Its findings include analyses of levels of carbon emissions by reducing power consumption in stand-by modes at night and on weekends, using switchable IP power strips that can automatically shut down A/V applications outside of business hours. Additionally, the paper discusses how the trend towards sustainability also comes with cost savings.
It presents these savings according to room sizes and duration of use, so that anyone specifying A/V equipment for meeting rooms can point to these figures when calculating how they can reduce energy costs and increase their sustainability by using intelligent switching routines.
'This new research highlights Guide's dedication to providing users with lower costs and a better carbon footprint,' says TIG Director of Sales, Steven Dullaert. 'It shows how we're not just making promises in terms of savings and sustainability but are delivering on them.'