Built in 1952 to host equestrian events, the Auditorio Nacional (AN) in Mexico City now ranks among the the best concert venues in the world
It is known both for its architectural design and for housing the largest pipe organ in Latin America. The venue's main hall houses nearly 10,000 seats raised above and around the 23m stage used for national and international music concerts, song, dance and film festivals.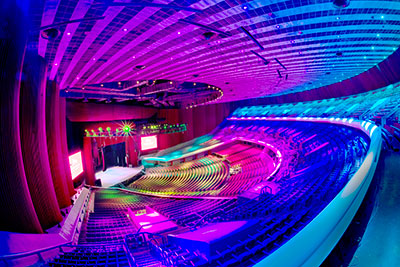 Lunario, Auditorio Nacional's alternative stage, seats 1,200 and is used for small and medium-sized events. Both spaces have hosted notable companies including the Vienna Philharmonic, LA Philharmonic, English National Ballet, Bolshoi Ballet, New York Philharmonic, Elton John and Sting. The venue has also accommodated two Miss Universe pageants, multiple film premiers, and even the 1968 Summer Olympics gymnastics competition.
The entire facility was recently given a renovation, which included replacing its12-year-old sound system with an L-Acoustics K Series. 'At Auditorio, we do productions day in and day out,' says Auditorio Nacional Production Director, Nico Peláez. 'With some 30m people attending events here over the past 25 years, we knew it was the time for a major update.'
After a detailed evaluation, Peláez and the team had identified ten projects within the space, covering improvements in lighting, visuals, audio and internal facilities. The projects were then laid out in order of priority, with audio taking precedence. 'AN has always been known for its outstanding acoustic properties, so in order for us to continue with our legacy of being one of the top concert venues in the world, the audio upgrade was given the top slot,' Peláez continues.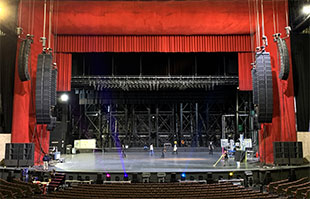 Four of the world's top audio brands were invited to participate in the tendering process. To ensure complete objectivity, all companies demonstrated to the AN Board as well as an independent external consultant on the same day. 'We developed a transparent process to give each company an equal opportunity in the bidding process,' explains Peláez. 'Our listening committee included 12 people from the venue's audio and production teams, and each member of the committee used a point system to evaluate the same criteria for each system.'
The points system took into account proven years of experience, audio quality and ability to integrate into Auditorio's existing workflow. The L-Acoustics K Series tendered by Vari Internacional scored the highest and won the contract.
'The Vari Internacional team were very professional and, together with representatives from L-Acoustics, were able to clearly demonstrate the key benefits of the L-Acoustics K1 system,' Peláez says. 'Two of the key selling points were L-Acoustics' ability to adapt itself to our existing eco-system, and its audio quality. Some of the renowned Mexican and Latin American artists had used K1 at AN, particularly with Luis Miguel performing for 30 nights to over 300,000 people. We had all seen that show and had heard the positive feedback from the audience.'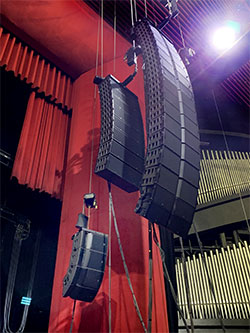 'For AN, we felt it wasn't just a change of brand, it was also an opportunity to improve some of their workflows,' explains engineer Juan Francisco Álvarez, Sales Manager at Vari Internacional. 'L-Acoustics not only fully integrates with the Auditorio's existing systems, but it is also future-proof, allowing new elements to be deployed and configured with ease as needed.'
For the main stage configuration, Vari supplied two main hangs of 14 K1 with two K2 down and 12 K2 per side for out fill. Two hangs of eight K1-SB subs are flown behind the K1, with a further two stacks of four KS28 subs positioned left and right on the stage floor. Front fill is delivered by eight X12 placed in front of the stage lip. Two A15 Focus and two A15 Wide per side provide side fill for the monitor system. Delays are catered for by two arrays of six Kara(i). The entire system is powered by 39 LA12X and seven LA4X amplified controllers Four P1 processors are used for AVB distribution to the amplified controllers. Finally, the stage monitoring package comprises two ARCS Focus and 22 X15 HiQ.
The Lunario system comprises two main hangs of six Kara and two SB18 subs per side, with four SB28 subs hidden beneath the stage. Twenty short-throw X8 coaxial enclosures were supplied and used as stage monitors and front fill as needed, with four A10 Wide and four KS21 subs for side fill. Nine LA4X and one LA12X provide power and control, along with two P1 processors.
The audio system supports analogue and digital operation, using AVB/Milan protocol to simplify audio and control data distribution and offer guaranteed quality without dropouts in a live sound reinforcement system.
'With events of all scales and sizes, we wanted to deliver a sound system that is fully scalable and would truly give justice to this venue's legacy as one of world's top concert venues,' says Álvarez.
'A massive number of activities take place at the Auditorio – in a typical year we can have 265 concerts, use 2,300 tons of equipment, spend over 3m staff-hours on productions from more than 72,000 technicians, and have audiences of 1.5m. So all the components within our workflow have to work seamlessly together,' concludes Peláez. 'I am proud to say that, together with Vari Internacional, we were on time and on budget in terms of delivering our amazing new L-Acoustics sound system. It not only gives us the ability to work more efficiently, but delivers outstanding audio.'